Tomato Khata ( Tomato Sweet & Sour Preparation )
Tomato khata is a typical recipe belonging to the State of Orissa. The dish is a popular item prepared during get together and parties. With tomatoes in it, this recipe is not only delicious, but also very nutritious.
I was first introduced to this recipe in a party and loved it. I then learnt making this sweet recipe from my mother. After my marriage, there was a get together between Oriya families where I prepared this sweet and sour recipe and got highly appreciated. Here I am going to share this recipe the way I used to prepare those days. Since I have a sweet tooth I like this recipe very much. Tomato khata can be served with rice or chapatti as a side dish.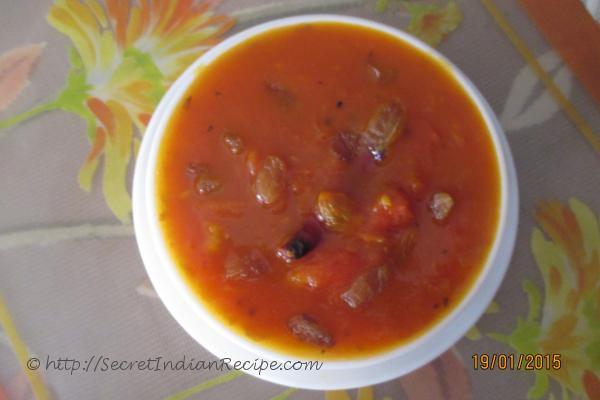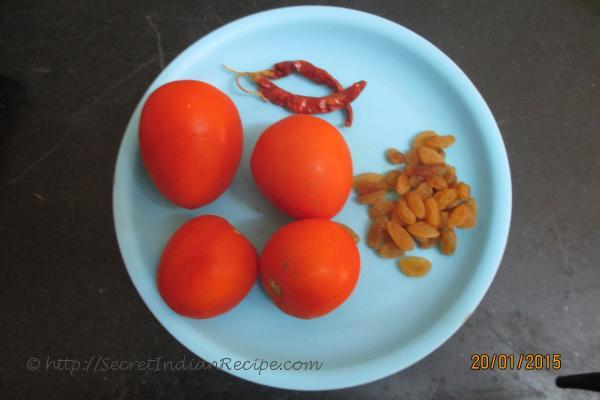 Ingredients:
4 ripe tomatoes
1/5 teaspoon mustard seeds
1/5 teaspoon cumin seeds
1/5 teaspoon black cumin seeds
1/5 teaspoon fennel seeds
1/5 teaspoon fenugreek seeds
3 red chilies
1 teapoon turmeric powder
1/5 teaspoon salt
3/4 cup of sugar
1/2 cup of water
6 to 8 curry leaves
2 teaspoon oil
2 teaspoon raisins
Directions:
Cut the tomatoes into small pieces.
Place a Kadhai (frying pan) on the stove and pour oil.
When the oil gets heated, add mustard seeds and cumin seeds, black cumin seeds, fennel seeds and fenugreek seeds.
After the seeds crackle, add red chilies, curry leaves and sauté for few seconds
Now add tomatoes into the pan, and then add salt and turmeric powder. Stir well.
Allow the tomatoes to get cooked for sometime till they become tender.
Pour water and cover it with a lid. The stove should be on a medium flame.
Stir at regular intervals.
After 5 minutes open the lid, then add sugar and raisins, mix well and cover the lid.
When the tomatoes are done and get transformed into a thin paste, switch off the stove.
Your tomato khata is now ready to taste.
Footnotes:
You can add dates in place of raisins.