Tomato Rasam (thakali Rasam)
Tomato Rasam is quite easy to make and is very tasty. It can be used as soup or as curry with rice. Rasam is good for cough and cold. In cold season i use to make varieties of rasam. I love rasam very much.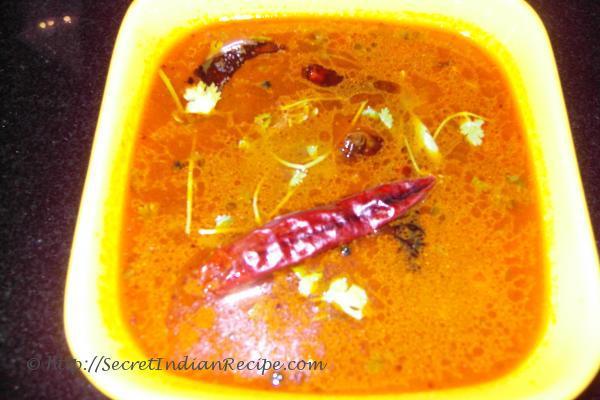 Ingredients:
Ripe Tomatoes- 3 pieces
Crushed Garlic Coves- 4 or 5
Dry Chillies- 2 to 4 pieces
Turmeric Powder- 1/2tsp
Chilli Powder- 1tsp
Rasam Powder- 2 tbsp
Black Pepper Powder- 1/2 tsp
Asafoetida (kayam)- 1/4 tsp
Curry Leaves - few
Coriander Leaves- few leaves
Mustard- 1tsp
Oil- 1tbsp
Water- 2 to 3 cup
Salt- to taste
Directions:
Heat 1 tbsp of oil in a pan and splutter mustard seeds.
Reduce heat, add dry red chillies and curry leaves and saute for few seconds.
Add the chopped garlic and tomatoes and stir fry until the tomatoes are mashed and cooked.
Reduce heat and turmeric, chilly and Rasam powder and stir fry for a minute.
Mix the tamarind paste with 2 or 3 cup of water and then pour into the pan.
Add salt and simmer for 5 minutes finally remove from stove. Sprinkle some pepper and asafoetida.
Footnotes:
For making tamarind paste mix 1 tablespoon of tamarind to 3/4 cups warm water.