Tomato Soup
This is a very tasty and easy recipe. Everyone, from young age to old, will love this soup recipe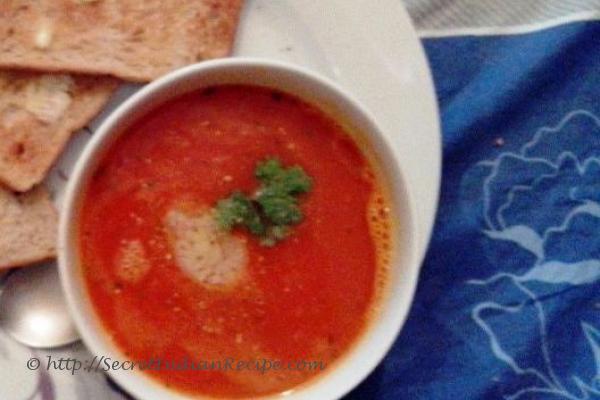 Ingredients:
YELLOW MOONG DAL 2 TBSLP
TOMATOES 5 MEDIUM
ONION 2 MEDIUM
MILK 3 TBSP (I used low fat milk)
GARLIC 1 POD (OPTIONAL)
SALT AS REQUIRED
GINGER 1 INCH
SUGAR 1/2 TSP
Directions:
Cut tomatoes and onions and pressure cook it along with moong dal, garlic and ginger by adding 2 cups of water to it.
Pressure cook it till 2 – 3 whistles. When it is done,allow it cool and strain it and discard the ginger. Keep the excess water in a separate bowl. Blend all the others into a smooth paste. Mix it with the water set aside.
In a kadai, add butter (if u want) and pour the blended ingredients and bring it to boil and add a teaspoon of sugar. Finally add milk ,salt and pepper before serving.