Traditional Kerala Egg Curry
Egg curry is a common non-vegetarian recipe in India. It is cooked in different ways. In Utter Pradesh, for example it is
cooked in onion and ginger garlic gravy. In Bengal little sugar is added. Kerala egg curry is different. It has coconut milk that gives it a sweet and creamy texture.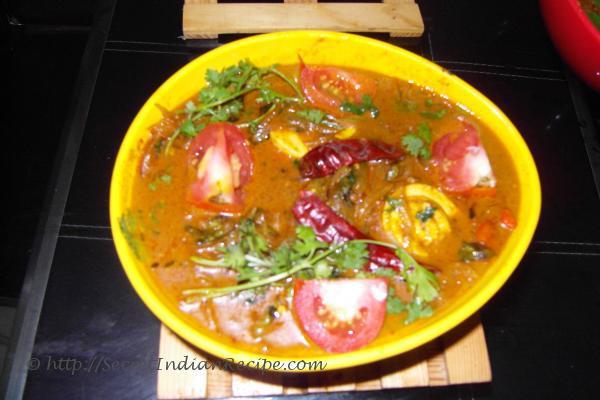 Ingredients:
Egg- 4 (boiled)
Onion- 2 medium, finely sliced
Tomato -1 big (sliced)
Chilli powder - 11/2 table spoon
Turmeric powder-1/2 table spoon
Coriander powder - 1 table spoon
Gram masala - 1/2 tablespoon
coconut oil- 2 tablespoon
Salt-to taste
Coriander leaves 1/4 cup (chopped)
Curry leaves- 5- 6 leaves
Green chilli- 4 pieces
Coconut milk - 1 cup
Directions:
Heat oil in a pan.
Put onions and green chilli.
When onions become little brown then add tomato and stir again.
Now add turmeric powder, coriander powder, gram masala and tomato. Keep stirring.
Add coconut milk and 1/2 cup of water and let it boil for 2 minutes.
When gravy becomes thick, add boiled eggs. Garnish with coriander leaves and curry leaves and serve.
Footnotes:
If more gravy is required then add more coconut milk.
Other Indian Recipes that you may Like !