Traditional Kerala Tomato Sambhar
Kerala Tomato Sambhar is a delicious curry. I love this curry very much. It is a famous Indian recipe. The abundance of tomatoes in my home prompt me to make tomato sambhar. It can eat with dose and idly and with rice also. It is a tasty curry from Kerala.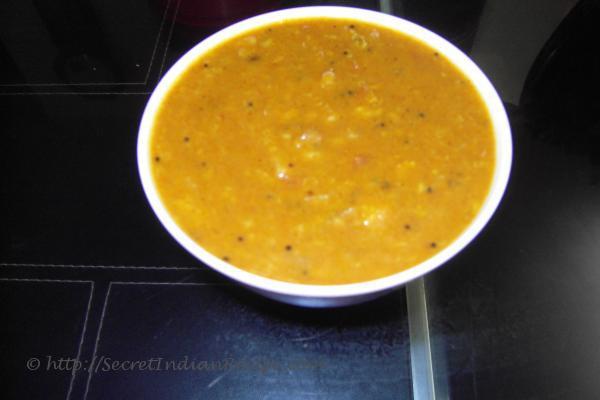 Ingredients:
Tomatoes- 250 gm (Chopped)
Big onion- 2 (chopped)
Thuvar dal- 1cup
Coriander leaves- 2 spoon
Green chilli- 3
Red chilli powder- 2 table spoon
Turmeric powder- 1 /2 Table spoon
Hing- 1/4 Table spoon
Salt- 2 Table spoon
Water - 2 cups
Mustard seeds - 1 Table spoon
Cooking oil- 4 Table spoon
Sambhar powder- 1 Tablespoon
Tamarind pulp.-1 tsp
Directions:
Wash and dice all the vegetables.
Cook Thuvar dal with 2 cups of water, green chilli, turmeric, coriander leaves and salt till 3-4 whistles. Open the lid of cooker when pressure reduces completely and mash the dal well.
Heat some oil in a pan and add onions. Saute for some time. Add brinjals and tomatoes cook till the vegetables are done.
Add the cooked vegetables in Thuvar dal mix along with tamarind pulp. Mix well and let it boil for few seconds.
Heat some oil in a pan splutter mustard seeds, red chilli, hing, sambhar powder fry for few minutes.
Now pour the tempering over the cooked dal and serve with Rice.
Footnotes:
Thuvar dal must have to cook properly, otherwise Sambhar will not come good.