Traditional Sheer-khurma!!
With Ramazan coming around the corner…it's not long before we hug each other and wish everyone "EID MUBARAK"…Here's coming the beautiful and traditional dessert that we make during the time of EID. It is a delicious and rich delicacy which will make you asking for more and more after you relish the last drop of it!!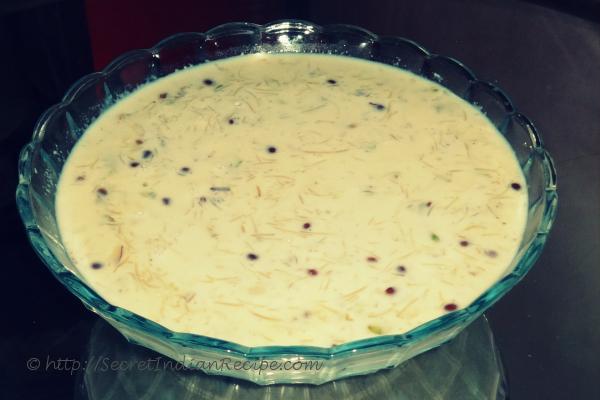 Ingredients:
Badam – 3 spoons chopped in long strands
Pistachio – 3 spoons chopped in long strands
Raisins (Kishmish) – 3 spoons
Dry dates –(Kharakh) 2and ½ spoons chopped in long strands
Chironji – 2 spoons
Seviyaan (Vermicilli) – 1 cup
Ghee – ½ cup
Milk – 1 Ltr
Sugar – ½ cup
A pinch of saffron and cardoman powder for garnishing.
Directions:
Boil milk and keep stirring until it comes to the boiling point and make sure it doesn't touch the base.
On the other hand heat ghee in the pan, add the vermicelli and fry it till it is brown. After that add the chopped dry fruits. Keep stirring for few mins until they are properly roasted and you get a nice smell.
Add milk to it. Keep stirring it continuously and add sugar in the end. Cook for 2-3 mins until the sugar dissolves and milk thickens a bit and the ghee separates.
Switch of the gas. Add saffron mixed in a tbsp of hot milk to the milk and a pinch of cardamom powder.
Footnotes:
Garnish with your love and dry fruits. Serve Hot!! 'EID-MUBARAK'