Triangle Time Saver Puri And Choley
Triangle Puri and Choley: The triangle puris are so genius, they should be patented! Seriously, the bite sized puris are my absolute fav. Partly due to the fact that they cook quick and partly, coz they taste great with Fruit Jam as a tiny dessert!
Choleys are as ancient as cooking, and every house has a different customized variation of cooking it! I know it's not a rocket science recipe to post! But many a times a little deviation from our own cooking style can be really good for the taste buds!
Can be served as a breakfast item, or a quick lunch box fix! Best served hot! As always, thanks for reading and please feel free to drop in a line for comments/ suggestions:)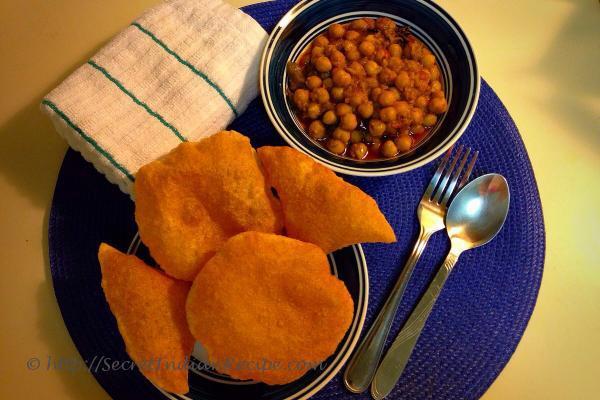 Ingredients:
For Puri: Flour (atta) - 2cups, water for kneading- very less(as req), oil for deep frying
For Choley; Kabuli Chana- 1.5cups- soaked overnight and washed
Onion-1 large- chopped in small cubes
Ginger garlic- 2" and 3-4 buds all thinly sliced and chopped
Tomatoes- 3 large- chopped in small cubes
Coriander leaves- 1/2 cup- washed and chopped
Masala- 1" cinnamon, 3-4 cloves, 1 star masala,1 Javitri, 2-dry red chilli,3 bay leaves
Masala pwdr- chilli,turmeric,cumin,coriander,garam masala-1/4tsp- dissolved in 1/4 cup water
Green chilli- 5-6 finely chopped
Salt- to taste and Oil- for choley
Directions:
For Puri: knead the flour with minimum possible water, add slowly and mix checking if it needs any more water. Lesser water in flour means, when you add the puri in oil the water molecule will expand and cause your puri to puff up nicely. Too much Water and it will have a 'dampening' effect. Keep the dough for 10 mins aside. Heat oil on Med- high. Cut equal portions of dough the. Roll out in medium thickness. Cut the circle in four triangle by making a plus sign on the circle. Drop in hot oil and fry on both sides till done! Of not sure, make the usual round puris!
For Choley: heat oil on med high, add 7-8 tsp oil and all the masala ,green chilli sauté >> add onion,fry for 5mins >>add salt>>add ginger garlic and sauté for4mins>> add the chopped tomatoes,sauté 6-mins>>add masala pwdr mixed in some water and fry till oil separates>>add coriander leaves,sauté 1mins>>add soaked choley,sauté with the gravy for5mins>> add half cup and some more water>>pressure cook on med-high for about 5-6 whistles!let it cool,open and serve with just made puris!
Footnotes:
Tomatoes should be a little more in choley/rajma recipes, it adds a nice flavour without making the 'tangy' like lime/yoghurt/amchur powder does!
Adjust heat for puri if it's getting brown spotting on it too quickly or if it's remaining white.fry on both sides twice if you like your puris crispy!rolling out puri can be a little tacky- too thin and it's flat and too thick and it will taste of dough! Practice is the key!