Tricolour Mixed Rice
This recipe I had made during my college independence day celebrations.Initially I was not aware of the cooking but slowly I could make it and it was easy.That was a superhit infact in our celebrations.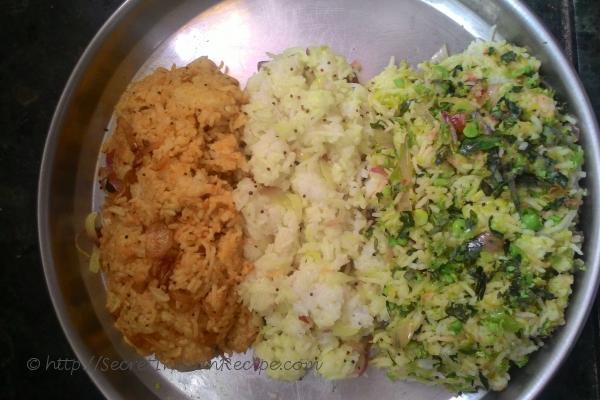 Ingredients:
2cups basmati rice
1tsp Kashmiri chilly powder
2 green chillies
1tsp mustard
2tsp ghee
2 chopped onions
Few curry leaves
Salt to taste
Directions:
In a pan pour ghee,splutter mustard,onion and saute well till brown.
Cook rice separately by adding salt.And keep aside.
Divide rice into 3 portions.Take a portion and mix with some ghee sauted onion and keep aside in a plate.
Take 2nd portion rice and mix with ghee saluted onions and Kashmiri chilly powder in low flame and place on top of the white rice.
Take the last portion rice and mix with crushed curry leaves and green chillies,saluted onions and cook in low flame.
Footnotes:
You can serve this rice hot along with Raita and pappadam.