Turai Aur Sev Ki Sabzi Or Tori Nu Shak (ridge Gourd And Sev Curry)
A less known Gujrati curry, which was introduced to me by my school friend Neela Ben, She often used to bring this curry with her masala parathas and garlic chutney. It uses simple ingredients but taste so different. The addition of sev in the curry makes it a little spicy. You can make the same preparation with using snake gourd or bottle gourd if you do not have ridge gourd. #RegionalUnknownRecipe Contest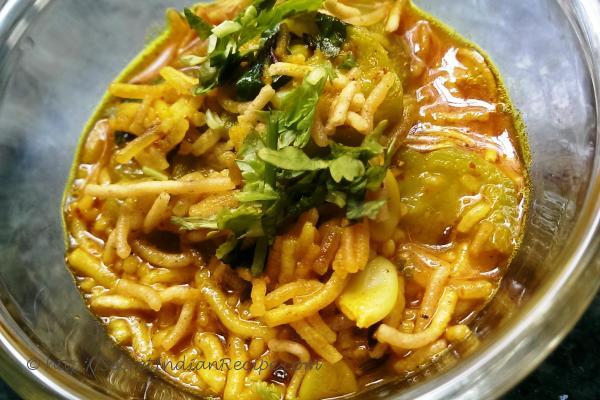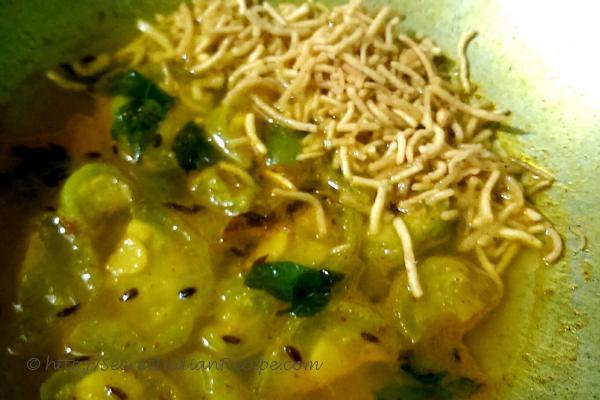 Ingredients:
Turai (Ridge Gourd) – 250 grams
Cumin seeds – ½ teaspoons
Turmeric powder – 1 teaspoon
Red chilli paste – 1 teaspoon
Garlic paste – 1 teaspoon
Chopped Coriander leaves – ¼ cup
Sev/ Bhujia (readymade thin besan strips) – ¼ cup
Salt to taste
Oil – 1 tablespoons
Jaggery - a small button size piece
Directions:
Peel and wash turai or tori and cut in small pieces.
Heat oil in a pan and first splutter cumin seeds.
Add the chopped turai and sauté for a mintue.
Add turmeric powder, red chili paste, garlic paste and salt and sauté for a mintue.
Add a cup of water and let it come to a boil. As it starts boiling close it with a lid and cook for about 10 mintues or till the turai is cooked well.
Finally add the sev, jaggery and chopped coriander leaves and mix. Switch off the gas. Make sure that there is around ½ cup of water left in the curry as the sev will soak some water after some time.
Serve immediately with hot chappatis.