Udada Methi Pole
Sweet dosa cooked during winter season.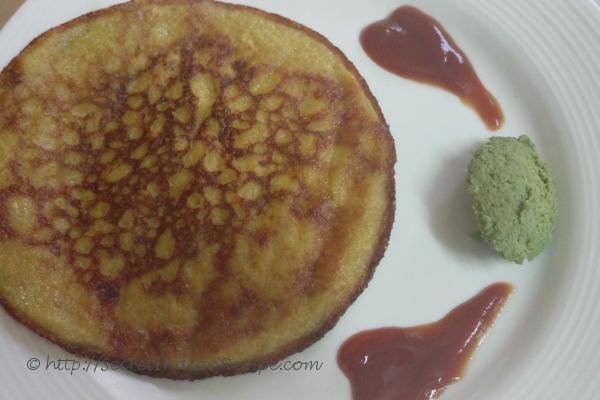 Ingredients:
Black gram skinned (urad daal) 2 bowls
Fenugreek seeds 1.1/2 tea spoon
Turmeric powder 1/2 tea spoon
Grated Jaggery 1.1/4 bowl
Ghee /butter 1-2 tea spoon
Water as required
Salt as required
Oil as required
Directions:
Add fenugreek seeds to black gram skinned. Wash it thoroughly and soak it in water for 4/5 hours. Grind it to fine paste and let it ferment overnight.
In the morning add turmeric powder, ghee, jaggery, salt and water mix it well for a dosa consistency
Heat a frying pan spread oil on it and pour a big table spoon of batter and spread evenly to form a bit thick dosa. Suggestion :- make small dosas
Put lid on it for 1-2 min. Flip it once again put lid again for 1-2 min. Add oil if required on sideways. Remove the lid and after a minute remove the dosa/pola.
Serve with sauce or green chutney (coconut+coriander+green chilie+lime juice+sugar+salt)
Footnotes:
One can make small 3" diameter dosas 2-3 at the same time in the pan, to save time.