Udupi Special Raw Mango And Yogurt Curry
The sweet and tangy flavour of mango when mixed with yogurt and blended with mustard seeds gives an awesome sweet, spicy and tangy tasty curry. This is a very simple recipe of Udupi which can be prepared in just 10 minutes and there is no cooking involved. Inspiration is from the blog udupi-recipes.com.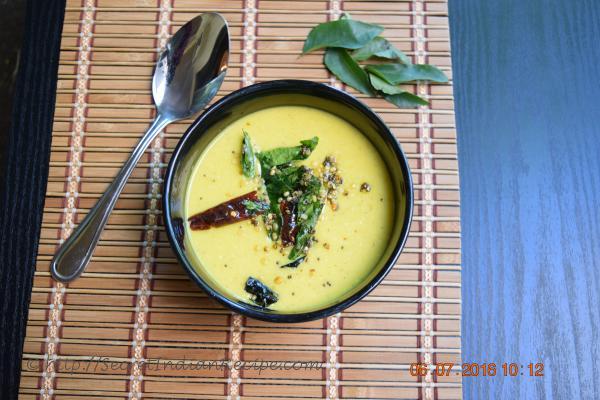 Ingredients:
1 Raw Mango
1/2 tsp Mustard seeds
4-6 Green chillies
1 Garlic clove (optional)
1 cup whisked Yogurt
1/4 tsp Turmeric powder
Salt as per taste
For Tempering:
4-6 fresh Curry leaves
1/2 tsp Mustard seeds
1/2 tsp Urad dal ( split black gram lentils)
2 broken Red chillies
Dash of hing or asaefoetida
Directions:
Peel and dice the raw mangoes. Add it into a mixer or food processor and grind it to a smooth puree along with mustard seeds, green chillies, garlic clove, turmeric powder and salt as per taste .
In a large bowl, add the whisked yogurt and the pureed mango mixture. Stir and mix well by hand till it the mango puree is well blended in the yogurt. You may add water as per your required gravy consistency.
Prepare the tempering. Heat a pan and add oil into it. Add asaefoetida and mustard seeds. When the cracking sound stops, add the urad dal, red chillies and curry leaves. Saute on low flame till the urad dal turns light golden.
Add the tempering into mango yogurt curry. Serve it as a side dish with rice.