Ukadpendi ( A Savoury Whole Wheat Snack From Maharashtra)
A meal in itself, ukadpendi is a truly traditional recipe that is slowly receding into the lesser known ones. It is versatile because it can be had for lunch, dinner or breakfast or even a snack. A really earthy dish with flavour of the country side the sweetness of the onions and the bite that the peas provide, it reminds me of days when the aroma of roasted wheat flour filled each corner of the house and we knew a tasty treat was on its way.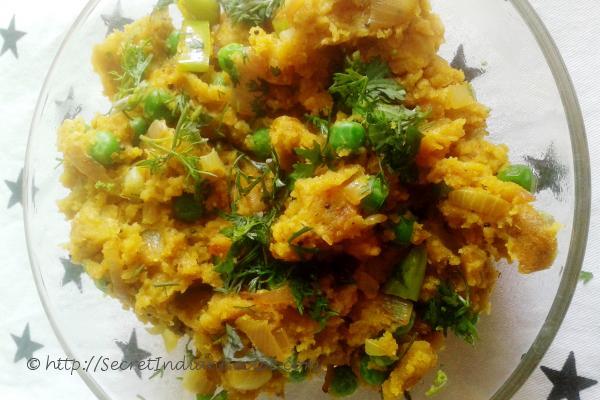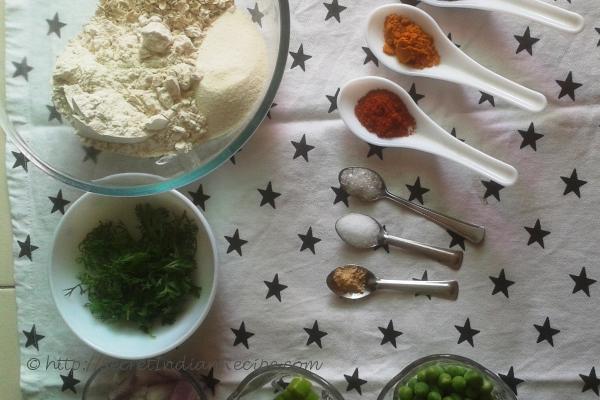 Ingredients:
1 ½ cups whole wheat flour
½ cup besan – chickpea flour
2 tbsp oil
A pinch of asafoetida
2 tsp mustard seeds
1 medium onion chopped
1 green chilli chopped
1 1/2 tsp turmeric powder
2 tsp red chilli powder
Salt to taste
3 ½ cups lukewarm water
2 tbsp chopped coriander
1 tsp sugar
½ cup boiled peas
Directions:
Add oil to the pan and heat, add mustard seeds and asafoetida. Allow the seeds to crackle
Add turmeric powder, red chilli powder and the chopped onion and fry till the onions are translucent.
Add the green chilli and fry for 30 sec.
Add the whole wheat flour and besan/chick pea flour and stir continuously till the mixture is brown and you begin to get the aroma of roasted wheat.
Add salt, sugar and the boiled peas. Stir well.
Add lukewarm water while stirring constantly.
Cover and simmer for 4 minutes.
It is served hot garnished with coriander and with a glass of buttermilk.
Footnotes:
The coarse wheat flour can be substituted with 1/2 cup of regular whole wheat flour, 1/2 cup of semolina and 1/2 cup of oats to get a similar texture.