Ulli Curry (sweet And Sour Pickle With Small Onion)
This recipe is very similar to puli inji or inji curry of Kerala sadhya. It has more or less the same ingredients except small onion is used instead of ginger. This dish is used as a side dish in the sadhyas of Central Kerala. Just try it out this simple recipe, and you will surely love it.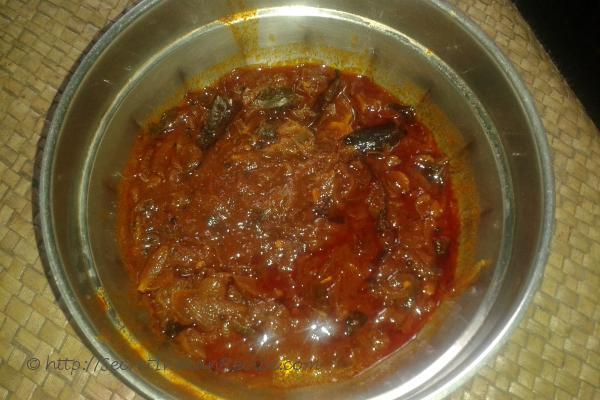 Ingredients:
Small onion, chopped -1 cup
Tamarind –a small lemon sized.
Green chilli - 3 nos.
Curry leaves - few.
Chilli powder -1 tablespoon
Turmeric powder -1/4 teaspoon
Asafoetida –a pinch
Salt –as you need.
Mustard seeds -1 teaspoon
Oil – 5 tablespoons
Fenugreek seeds – a few
Red chilli - 2 nos.
Jaggery-1/4 teaspoon (optional)
Directions:
Switch on the stove and place a frying pan on the stove.
Add oil into the pan and heat it.
Fry the chopped green chillies until it is crispy.
Take it out from oil and keep it aside in a plate.
Sauté the small onion in the oil until it reaches a golden-brown color.
Take it out from the oil and keep it aside with the fried green chilli.
Add the fenugreek seeds followed by mustard seeds, and red chilli and curry leaves into the remaining oil.
Sauté it well.
Reduce the flame of the stove.
Add the turmeric powder, chilli powder and asafetida into it and sauté until the raw taste of chilli powder is gone.
Then add the tamarind water into it and bring it to boil.
At this stage, add the sautéed onion and fried green chilli into the gravy and cook until the gravy reaches a thick consistency.
You can adjust the sour taste and make the curry sweet by adding a pinch of jaggery into the curry.
Ulli curry is now ready to serve.
Footnotes:
You can refrigerate it and use it like a pickle for a couple of days.