Uluva Thoran (fenugreek Seeds And Coconut Stir Fry)
This is one bitter recipe that would make you love bitter gourd. I began cooking this because of my mother-in-law who is a diabetic. Her dietician recommended her to drink water that had fenugreek seeds soaked in it. So I used to soak these seeds in 1 glass of water every day. After she drank the water I would collect the seeds in a box. My mother told me I could make a gruel with broken wheat and these seeds but I found that boring. So finally I went ahead and made this thoran/stir fry with the seeds collected over a week.
It was still very bitter so I added some vinegar, chili powder and salt to make this dish edible enough. But my mom-in-law all throughout kept saying she did not mind the bitterness. So if you can take in the bitterness or have diabetic patients at home, you can give this recipe a try.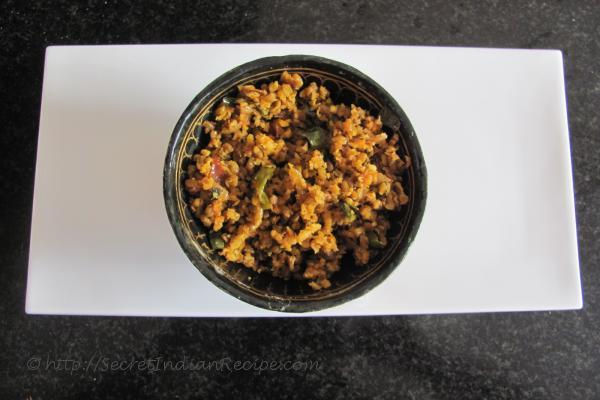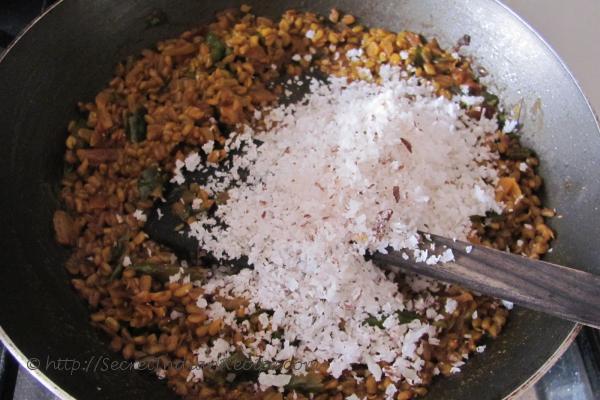 Ingredients:
Fenugreek Seeds- 6 tbsp
Onions- 2
Green chilies- 2
Turmeric powder- 1/2 tsp
Curry leaves- 1 sprig
Chilli powder- 2 tsp
Grated Coconut- 2 cup
Salt- to taste
Vinegar- 1 tbsp
Oil- 2 tsp
Water- 1/2 cup
Directions:
Soak the fenugreek seeds in 1 cup water overnight. Throw away the water the next day and soak in water again for another day.
Repeat this step for 3 days. You can also make sprouts out of the fenugreek seeds. Throwing away the water is to reduce the bitterness of the seeds.
To make sprout what I do is soak the seeds for 10 hours or overnight. I then hang the seeds in a muslin cloth with a bowl underneath to collect the dripping water.
I leave the seeds on my counter top for 2 days till sprouts come out. Sometimes I collect fenugreek seeds after my mother-in- law drinks her daily dose of methi seeds infused water.
I add them to a bowl and leave them in the refrigerator. They sprout themselves in this box after 4 days too.
Heat oil in a pan and start by sauteing the chopped onions, green chilies and curry leaves. Once the onion browns add the turmeric and chili powder.
Now add the fenugreek seeds and add 1/2 cup water. Bring the fenugreek seeds to boil, add salt and cook over low flame by covering the pan with a lid.
After 10 minutes open the lid and check if they seeds have cooked sufficiently. Now increase the flame to get rid of excess water. Add vinegar at this point.
For the final step add grated coconut after the water content has evaporated completely. And stir the fenugreek seeds for 2-3 minutes so that the coconut gets properly mixed into the stir fry.
Serve with rice or rotis.
Footnotes:
To make it more exciting, cook the seeds with some mutton/chicken kheema or potatoes.