Unakka Erachi Varuthathu​(dried Meat Stir Fry)
I often wondered why anyone would dry fish and meat when you get fresh ones? The only possible answer I got was that this was a practice done in days when one had no refrigerator and transportation to get groceries each time. So anything that was in excess was pickled, dried and preserved for later use. But today these dishes have become exotic delicacies because our generation does not have the patience to do this and with readily available fresh food drying and pickling is a least preferred activity.
In my attempt to chronicle lost traditional recipes from my family, I got my maternal uncle to dry some meat for me, to try this recipe out. I wonder who would do it after uncle? I guess I will at least once in a while.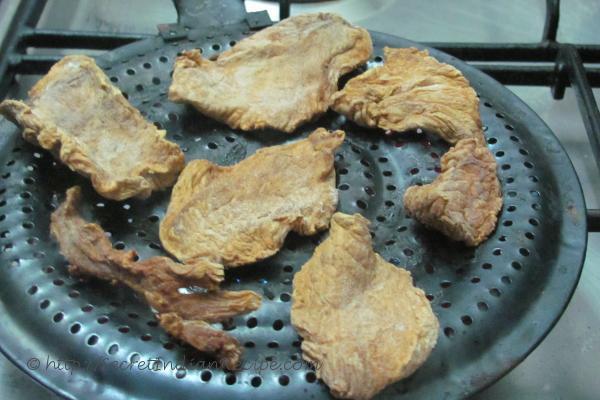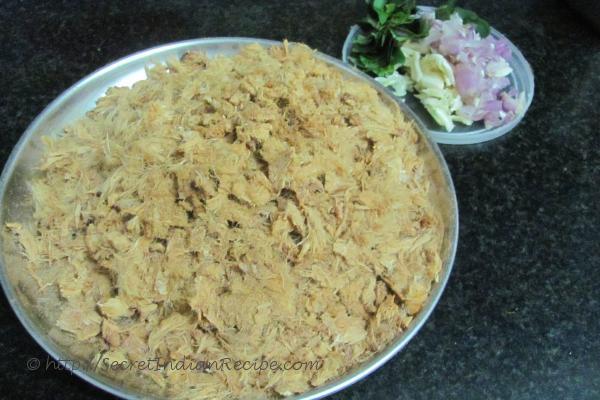 Ingredients:
Dried Beef Strips- 50 g
Shallots- 20
Garlic- 20 cloves
Curry leaves- 3 sprig
Chili powder- 1 tsp
Turmeric powder- 1/2 tsp
Garam Masala- 1 tsp
Oil- 3 tbsp
Directions:
Soak the beef strips in 2 cups of normal water for 30 minutes. This is to soften the meat. Grill the meat over fire for 4 minutes to soften them even further.
In a mortar and pestle or a grinding stone pound the meat after 10 minutes of grilling. This is a labor intensive task but is required to break the meat into shreds.
Mince the shallots and garlic in a mortar and pestle. Heat oil in a pan and fry the curry leaves till crisp. Take it out and set it aside in a plate.
In the same oil saute the minced garlic and shallots till they brown. Meanwhile shred the meat into smaller pieces using hands. After the pounding they would be softer.
Now add the spice powders and saute till the rawness of the spices disappear. Add the shredded meat now and stir fry till they become crisp.
Add the fried curry leaves into the pan and stir the meat. Check the salt level and add more if required.
Store this dry meat in an airtight jar and do not use it with a wet spoon.
Footnotes:
The process of drying beef strips is tedious. It is just like drying fish. Marinate thin strips of beef with turmeric and salt and dry them in the sun until they harden and all the water content in the meat has evaporated. If you have an old style kitchen with wood fire you can dry these strips over the wood fire to speed up the process and give the meat a smoked flavor.
Other Indian Recipes that you may Like !