Undan Pori ( Kerala Style Wheat Flour Fritters)
Undan pori is a snack which is seen in the chaya kadas of Kerala as an evening snack or a naalu mani palaharam. This recipe is very similar to the unniappam but the difference is that it is much bigger in size than unniappam. It was a usual snack that we got in our schooldays after coming from school. It is crispy and crunchy outside but soft and puffy inside.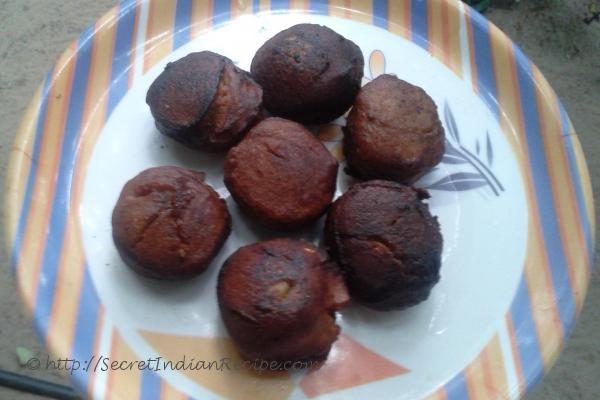 Ingredients:
Wheat flour - 2 cups.
Baking soda - a large pinch.
Banana - 3 nos.
Jaggary, grated - 3/4 cups.
Water v- 1, 1/2 cup.
Ghee - 1/2 tablespoon.
Cardamom powder - 1/2 teaspoon.
Coconut oil to deep fry.
Sliced coconut - 1/2 cup.
Dry Ginger powder - 1/2 teaspoon
Directions:
Switch on the stove and place a thick bottomed pan on the stove.
Melt the jaggery with 1/4 cup of water and let it cool down completely.
In a frying pan, add the ghee and fry the coconut slices in the ghee until it turns golden brown.
Keep it aside.
Mash the bananas completely in a food processor or use your hands to mash it.
Mix the mashed bananas, wheat flour, dry ginger powder, cardamom powder, baking soda and fried coconut slices.
Add the melted jaggery to the above mixture to make the dough.
Cover the mixture and keep it aside for about two hours so that it will get fermented.
After two hours, heat oil in a frying pan.
Grease your hands with water or oil as the dough is sticky.
Take a small portion of the dough and shape it into a ball.
Deep fry the balls in the oil in a medium flame.
Stir occasionally so that all sides of the balls are evenly fried.
When the balls turn dark brown, take it out from oil and drain it in a kitchen tissue.
Undanpori in now ready to serve.
Footnotes:
For the best result, use palaymkodan variant of bananas.
Always fry the balls in medium heat, otherwise the balls will be brown outside but will remain uncooked inside.