Undrallu ( Sweetened Rice Balls)
#SteamedRecipe - This is an Andhra sweet prepared as Naivedyam on Ganesh Chaturthi/ Vinayaka Chavithi (Telugu).
The main ingredient rice flour is steamed and made into sweetened rice balls.
These rice balls are mixed along with yellow moong dal, jaggery base and the other flavouring agents to make the recipe tasty and healthy. This sweet is one of the favourite dishes of Lord Ganesha.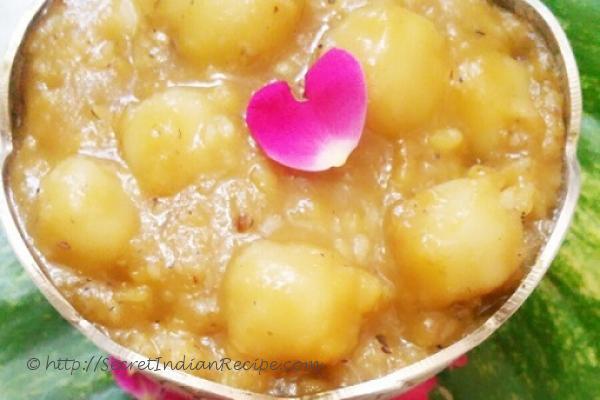 Ingredients:
For the Payasam: Roasted Green Gram/ Yellow Moong Dal- 1 and 1/2 cup
Water - 3 and 1/2 cups
Grated Jaggery - 1 and 1/2 cup
Sugar - 1 cup
Grated Coconut - 1 cup
Clarified butter/Ghee - 1/4 cup,
Cardamom powder - 1/2 teaspoon
For the Undrallu: Rice flour- 1 cup
Sugar- 4 tablespoon
Water- 1 and 1/2 cup
Directions:
For the payasam preparation, wash the roasted green gram/yellow moong dal. Add the water and pressure cook it for 5 minutes after a whistle blows.
In the meanwhile, prepare the undrallu. Take the water in a vessel, add 4 tablespoon of sugar and heat this. Let it come to a boil.
Now slowly pour the rice flour into the hot water and keep stirring till it is mixed. Turn off flame and place a lid.
Once it is cool,transfer this dough into a plate and make small balls by smearing little oil to your fingers.
Take another pan and heat it on a low flame. Now add the grated jaggery, sugar to it and stir well.
Once it is boiled, add the grated coconut, pressure cooked yellow moong dal, prepared rice balls ,cardamom powder and ghee. Mix it well. Simmer for 5 to 6 minutes or till a medium consistency is obtained.
Switch off the flame. Transfer this into a serving bowl. Serve it warm or at room temperature
Footnotes:
Note that the consistency of the payasam is medium. Else adjust this by adding water, you may also add milk to it.