Unnakaya (stuffed Plantain Fritters)
I love these Kerala plantains we call ethakka. My family steamed them, roasted them with ghee or just batter coated and fried them. But there is a lot more to this banana than just these dishes. These bananas aid in weight gain and so I decided to feed my kiddo who was underweight with these bananas. She resisted initially but when I presented them in various avatars she started liking them. Her favourite is these unnakayas and the ethaka roast with ghee a recipe I have already shared here. If you love these bananas do try these snacks and give them to your kid it is healthy especially if you want to gain weight. Otherwise, it is a lovely snack with a cup of piping hot tea.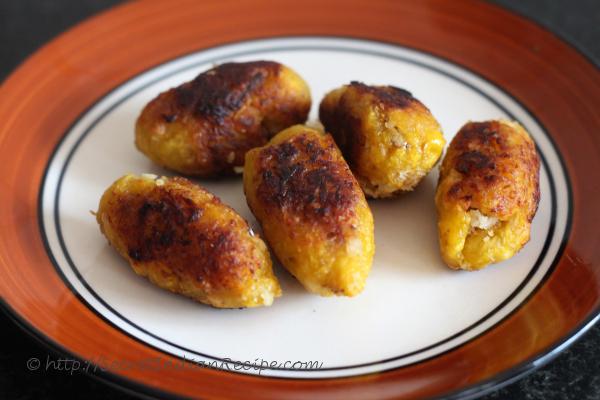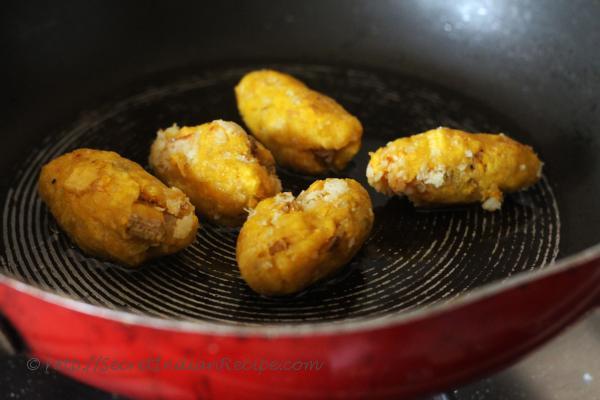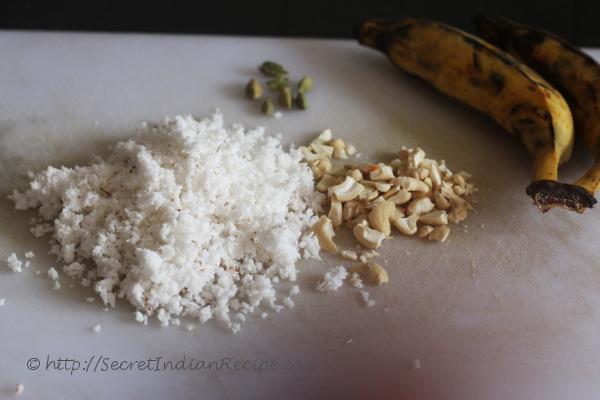 Ingredients:
Ripe ethakka plantains- 2
Grated coconut- 5 tbsp
Raisins- 5-6
Cashew nuts broken- 1 tbsp
Ghee- 3tbsp + 2 tbsp
Cardamom powder- 1 tsp
Sugar- 5 tsp
Directions:
Wash the bananas and steam them with the peel on. Remove the peel after they are steamed and start mashing them when they cool a bit.
Please mash them when they are still warm this might burn your hands a bit if it is too hot, so wait for the bananas to cool a bit.
Powder the sugar and cardamom seeds together in a grinder. Heat a pan and add ghee.
Fry the cashew nuts and raisins till they are golden and take them out. Now roast the grated coconut till it is light brown in the same pan.
Add the powdered sugar and cardamom to the coconut and add the cashews and raisins back stir them together for 2 minutes. This is the filling for unnakaya.
Now make balls out of the mashed banana make small discs that fit inside your palm. Add a bit of the filling and roll them to the shape shown in the images.
Heat 2 tbsp ghee and shallow fry the unnakaya till they brown evenly on all sides. Serve immediately.
Footnotes:
Usually unnakayas are deep fried in coconut oil or ghee, I find that unhealthy hence I shallow fried.
You can add some beaten rice flakes/poha with the grated coconut for the filling. You need to wash the beaten rice flakes before adding it and add it only after the grated coconut is brown from roasting.
Please get good quality ethakka plantains. Some available in the market look ripe from out but their centre would be raw so despite steaming it will be hard to mash, cut out such portions before mashing.