Upilitta Nelikka Thenga Chamanthi (salted Gooseberry And Coconut Chutney)
My maternal grandfather was a man of simple eating habits. He loved having gruel or kanji as we call it for dinner with some curd and a chutney or pickle. All the chutney my mom makes for us has a story of her dad's attached to it. It is a common sight to find jars of salted goodies, pickles and mouth watering relished when we visit mom's place even today. This chutney is a family favourite. The humbler version does not use coconut but this version does. We often use chutneys as a substitute for gravy with rice. If I have chutney and papad I don't need any curry to polish off a plateful of rice. And for this reason to control my weight I avoid making chutneys. This was one such week when I was tired to cook a proper meal. So I made two chutneys from Monday and I must say, I am slipping off to my old track to weight gain.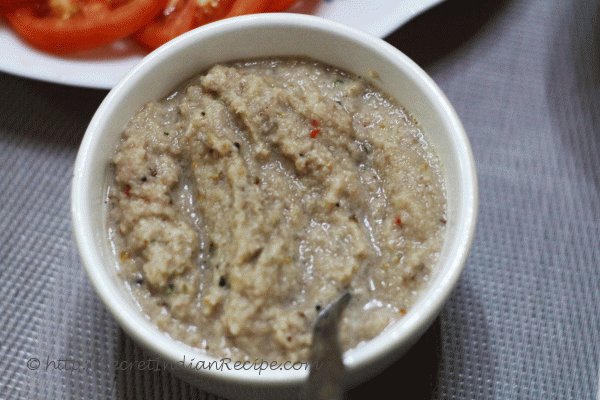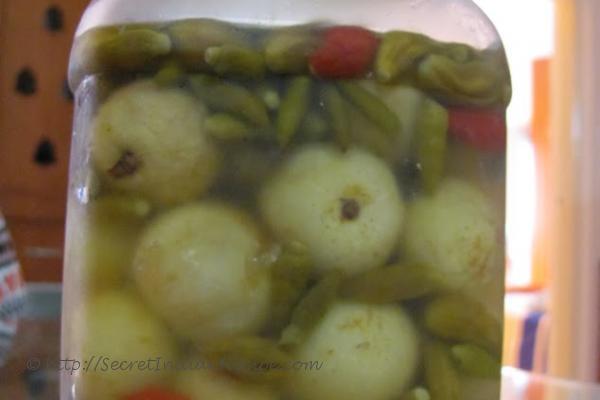 Ingredients:
Salted gooseberry- 4
Shallots- 7- 10
Bird's eye chilies- 3
Grated coconut- 1 cup
Curry leaves- 6-8 leaves
Salt- to taste
Ginger- 1/4 inch piece
Coconut oil- to temper
Mustard seeds- a pinch
Directions:
Chop the gooseberry finely and discard the stone/seed.
In a grinder,grind the shallots, ginger, chilies and curry leaves first.
Slowly add the grated coconut and salted gooseberry. Grind to a fine paste.
For tempering add some oil in a pan and throw in the mustard seeds. When the mustard seeds splutter, add onto the ground chutney.
Serve with rice.
Footnotes:
If you need to add some water during grinding, add the brine water. Also if you used bird's eye chilies to prepare the salted gooseberry, use those chilies in this chutney.
To pickle gooseberries in brine solution boil 1 litre water with 2 tsp salt and let it cool down. Wash the gooseberry and add it to this brine solution and store it in sterile jars till a month before using.