Upwas Ka Sabudana Wada ( Sago Fried Snack For Fasting)
Sabudana wada is served during fasting. Sabudana has very good water retention property and sendha namak has higher minerals needed during fasting. My kids hate sabudana or sago. But when I cook it this way, they keep wanting more.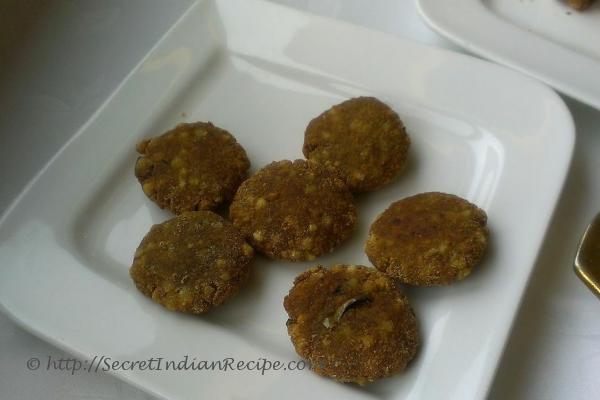 Ingredients:
Sabudana ( sago) - 1/2 cup
Boiled Potatoes - 2 pieces
Green coriander leaves - 2-3 tablespoon ( chopped)
Green chillies - 2-3 ( chopped)
Sendha namak ( fasting salt ) - 1/2 tablespoon
Singhare ka atta ( chestnut flour) - 4 tablespoon
Oil for frying
Directions:
Wash Sabudana well. Soak sabudana over night. The amount of water used should be just slightly above the sabudana level. Next day drain the excess water and keep aside.
Take the soaked sabudana in a bowl. Add mashed potatoes, coriander leaves, green chilies, sendha namak, half of the Singhare ka atta and and mix well.
Make small wada by taking portions of sabudana mix and rolling it over singhare ka atta.
Heat oil in a pan and fry the wada till they turn golden brown.
Footnotes:
You can add some cashew and raisins as well.
For a Maharashtrian version add quarter cup of crushed groundnuts and omit adding Singhare ka atta in the sago mix