Urad Dal And Black Pepper Rice
This is a recipe which is unique prepared only by our community . its truly delicious and healthy menu for lunch. It is generally prepared during the festive season. It is a main course meal consumed before the dessert like payasam. Its a traditional recipe passed on from centuries #RegionalUnknownRecipe Contest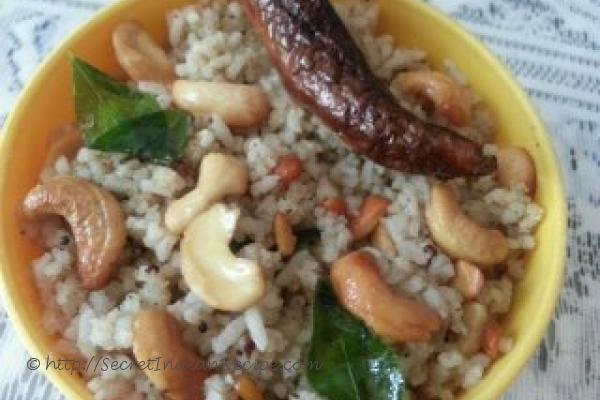 Ingredients:
Urad dal ( Split Black lentil)- 2-3 tablespoons
Black Peppercorns-2 tablespoons
White Rice- 2-3 cups
Ground nuts- 1 table spoon
Cahsew- 2 table spoons
Curry Leaves - 2 table spoons
Dry red chillies- 1-2
Roasted sundried buttermilk chillies- 2-3
Roasted papad- 1-2
Ghee-2-3 tablespoons
Grated dried coconut(kopra)-2-3 table spoons
Salt- to taste
Hing- a pinch
Directions:
Pour the prepared rice into a large shallow bowl. let it cool.
Take a frying pan, add a tablespoon of ghee and fry urad dal and black peppercorns .let the mixture cool and then powder it in a mixie and pour this mixture on the rice.
Then add the remaining ghee in the pan and fry dry red chillies , cashew nuts and ground nuts along with curry leaves and hing.
Add grated dried coconut(kopra) and salt to taste. Mix all the ingredients well until they get evenly mixed with rice.
Finally garnish with roasted sundried buttermilk chillies . Serve hot with papad.
Footnotes:
The rice should not be mushy for this recipe. Papad should be added only at the time of serving.