Urad Dal Ki Amriti/ Imarti (ring Shaped Indian Sweet Dish Made Of Black Lenti)
Amriti or Imarti is a popular sweet dish in Northern India like Uttar Pradesh, Rajasthan and in Eastern Indian like West Bengal and Bihar. In Uttar Pradesh specially Amriti is prepared in weddings and is distributed among guests as a token of ' shagun' (Ritual gift). Traditionally amriti is made of only Urad dal (polished black lentil) batter but now it is widely available in sweet shops and to attract the customers they add rice flour (To keep it crispy for days) and food colour (to make it more appealing).I am sharing the recipe which is in the pure form and does not have any added colour or scent.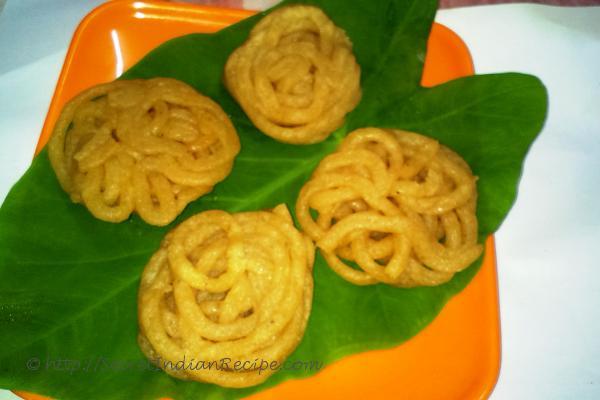 Ingredients:
Safed Urad dal (Polished black lentil) – 2 cups
Ghee for frying
Sugar – cups
Water – 300 ml
Directions:
Wash the urad dal thoroughly under water for at least two to three times.
Then soak the dal in water for 4 hours. After 4 hours, drain the excess water and put it in a grinder. Grind the dal into a smooth paste. Keep it aside to ferment for 2 hours.
Put a pan on the gas and pour 300 ml water. Let it boil and then add the sugar. Simmer the sugar syrup for about 10 mintues or till you get 1 tar chashni (Sugar syrup).
After two hours, pour the dal batter in conical shaped cake decorators, or sauce bottles with nozzle. Traditionally people used handmade plastic cones or cloth but handling it requires expertise. So I use Cake decorators.
Heat ghee in another pan and then with the help of cake decorators make rounded or flower shaped Amrities….. First timers can practice by making small Amrities….you can make four to five Amrities at a time. Fry on low heat till the surface starts turning brown. Drain the excess ghee by holding the Amrities upon a perforated ladle.
Now dip the Amrities in sugar syrup and keep it untouched for at least 10 mintues.
Before serving, if possible reheat the Amrities in Oven for better taste.