Urulaikizhangu Bonda (potato Bonda)
Variety of snacks can be made from potato such as potato pakoda, French fries etc. This is another potato snack which is crispy and spicy. I learned this recipe from my aunty and love to make this. I am sure you too will like to have this snack along with a cup of hot tea or coffee.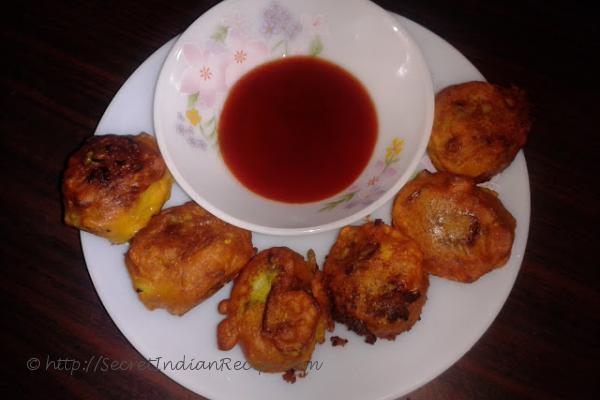 Ingredients:
Potato (big)-3
Green peas- 100 gm
Onion-3
Ginger- a small piece
Garlic- 2 cloves
Green chillies-2
Gram flour- 1 cup
Red chilli powder- 2 tsp
Turmeric powder- 1 tsp
Asafoetida powder-1/4 tsp
Water- as needed
Coconut oil- as needed
Salt- as needed
Directions:
Make the batter by mixing the gram flour, salt, red chilli powder, turmeric powder, asafoetida powder and water using hand. The batter should have a thick consistency
Peel off the potatoes and wash well
Chop the potato into small square shaped pieces
Place the chopped potato pieces and green peas in a pot along with water. Add turmeric powder and needed salt and bring it to boil.
When cooled, mash the boiled potatoes and green peas using a spatula
Chop the onion, green chillies, ginger and garlic into small pieces.
Heat 4 tbsp of coconut oil in a pan
Add the chopped onion, green chillies, ginger and garlic and needed salt to the pan and sauté until onion turns light brown in colour
When the onion turns brown in colour, switch off the flame and allow it to cool.
When cooled, mix it with the mashed potatoes and green peas using hand
Divide the mixture into 10 equal balls.
Dip each of the balls in the prepared batter so that the balls get fully coated with the batter
Heat coconut oil in a pan
Deep fry each of the batter coated balls in coconut oil until they turn golden brown in color
When fried well, drain excess oil and transfer to a paper towel
Now, the bondas are ready to be served with tomato sauce.
Footnotes:
The bondas are good when served hot