Urulaikizhangu Varuval (simple Potato Fry)
Potato fry is a tasty side dish for South Indian Sambar, Rasam and curd rice recipes. Although potato fry is a common recipe across India but everyone cooks this with some variations. And here is my Potato fry version :)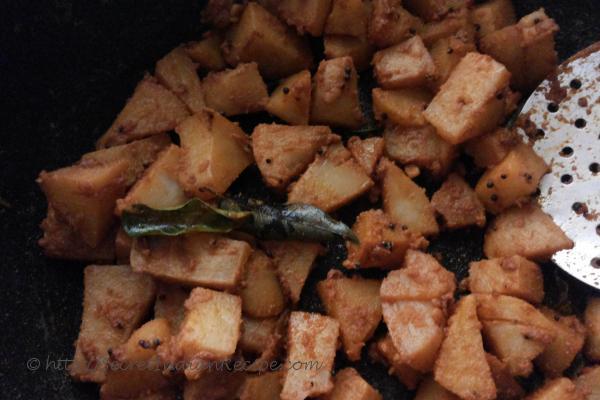 Ingredients:
Potatoes-3
Chilli powder -2 Teaspoon
Dhania powder -2 Teaspoon (coriander powder)
Salt - as needed
Mustard seeds-1 Teaspoon
Black gram raw -1 Teaspoon
Oil-5 Teaspoon
Curry leaves - 6 leaves
Directions:
Peel off the skin and cut the potatoes into cubes.
Wash the potatoes.
Heat a pan and add oil to temper Mustard seeds and Black gram.
After the Mustard splutters add Potatoes.
Now add salt, Dhania powder, chilli powder and mix well.
Add 3 tablespoon of water to cook the potato well.
Close the lid and cook for 15 mins till the potatoes get softer.
At last add curry leaves and stir well.
If you need a crispy potato fry then increase the flame and fry the potatoes till they acquire a light brownish color.
Ready to serve :)