Urundai Curry Kuzhambu - Minced Meatball Curry
This Recipe is my favorite. Minced meat is added with boiled potatoes to make round tikkias and then it is cooked in thick creamy gravy of spices and coconut milk.
It goes well with Naan, Dosa, chapathi, Rotis, Rice.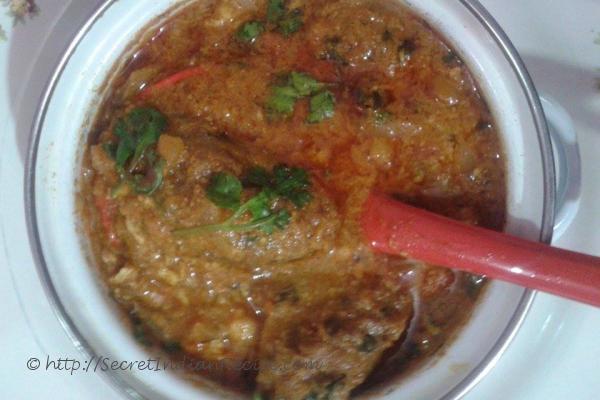 Ingredients:
Minced Lamb Meat - 500 grams
Potatoes - 2
Onion - 4
Ginger & Garlic paste - 3 tablespoon
Cardamom, Cinnamon - 2 pods each
Cumin seeds - 1 tbsp.
Curry leaves
Coconut milk - one glass or 100 ml
Tomatoes - 5 chopped
Garam masala powder or Indian spice powder- 1/2 tsp.
Vegetable oil - 100 to 250 ml.
Coriander seeds - 2 tbsp.
Green chilies - 3 sliced
Salt to taste
Turmeric powder - half tsp.
Chili powder - 1 tbsp.
Water - half glass
Directions:
Boil Minced meat along with a pinch of turmeric powder and salt in a pressure cooker till the meat gets tender. Approximate time to cook is 3 to 4 whistles.
Boil 2 big size potatoes and peel the skin and mash the boiled potatoes with spatula and mix with boiled minced lamb.
Add a pinch of Turmeric powder and one tbsp. of salt to the mixture and make the mixture to a round shaped tikkias or any shape of your choice.
Heat a fry pan and add vegetable oil for Shallow fry and carefully slide the meat ball one by one in oil and leave it to fry till golden brown and remove it and keep the fried meat balls aside.
Now heat a pan and add 5 tbsp. of vegetable oil and add 4 finely chopped onions and saute it till it turns golden brown.
Add curry leaves, cumin seeds, cinnamon and cardamom and saute it for few seconds and add ginger garlic paste and sliced green chilies.
Add finely chopped tomatoes or tomato puree, half tsp of turmeric powder, chili powder, 1 tbsp. of coriander powder to the mixture and salt to taste and saute it for 2 minutes.
Add half a glass of water and leave the mixture for 2-5 minutes on medium flame, till it turns to thick gravy.
Now add 100 ml of coconut milk to the gravy and add the fried meat balls to the curry.
Leave the curry on low flame for about 2 minutes and garnish it with finely chopped coriander leaves.
You may serve this curry with Naan, Paratha, Chapathi, Rotis, Dosa and Rice.
Other Indian Recipes that you may Like !