Vada-ghoogoni ( Fried Lentil Dumplings With Dried Pea Curry)
This is a dearly loved street food from Orissa. It is the common man's food which is found equivalently in the cosmopolitan as well as the rural reaches of the state. This dish has two components-the vadai( an infamous cousin of the one that is had with sambhar in the southern regions) and ghoogoni.
Owing to the popularity of this dish and the fact that staunch supporters would have many a do this/do that list-I humbly present the simplest version known to me. The fact is it will not disappoint due to the classic recipe and simplicity of process.Try it and yes-do divert from the recipe if you wish-that is the only known way for guaranteed fun,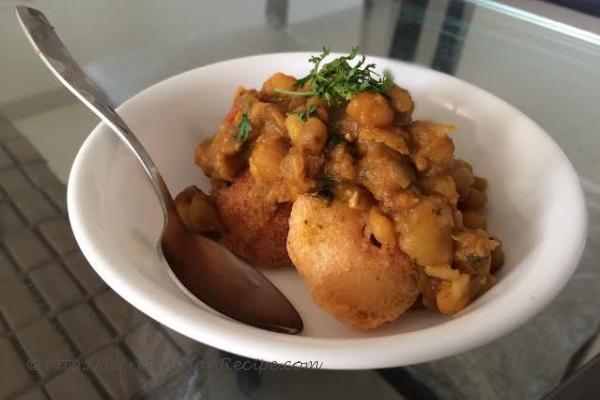 Ingredients:
1 cup urad dal ( Peeled black lentil)-soaked overnight
1cup White vatana ( White dried pea)-soaked overnight
1 large onion
1 tbsp Ginger garlic paste
1 fairly sized tomato
1/2 tsp of Turmeric, Chilli, Coriander powder
Salte to taste
2-3 green chillis
1 tsp punchforan & 1 bayleaf
Oil for frying
A bunch of Coriander leaves minced to pieces
1tsp Garam masala powder.
Directions:
Grind the soaked urad dal into a fine paste by using the least amount of water. Whisk the batter for sometime for softer vadas. Add half teaspoon of salt to the batter and mix. Keep aside in the fridge for half hour. Heat oil and fry small round vadas and keep on paper tissue to grab the extra oil.
For the ghoogoni-pressure cook the vatana with 2 cups of water, a teaspoon salt and the bayleaf. A small stick of cinnamon can be added too for extra flavours.
Take 2tbsp oil in pan and add the punchforan. Add diced onion and sauté till translucent. Add the ginger garlic paste and stir till the oil separates from the masala. Put turmeric, chilli, coriander powder and stir.
Add chopped tomatoes to this mix and stir till the juices are nearly dried up. Infuse the boiled vatana to the mix and stir. Top it with garam masala powder and cook for 5-10 minutes till it boils. Add the minced coriander leaves and stir again.
Top the ghoogoni with fresh sliced onion, chat masala (optional), coriander leaves and serve piping hot with the vada. Enjoy!