Vada Pav (indian Potato Croquettes)
Vada Pav is a popular street food snack in Maharashtra especially in Mumbai. Vada is a Marathi word for Potato croquette and Pav means bread. The Vada is placed between a pav slice and served with spicy green and sweet chutneys. Vada Pav is also known as the Indian Burger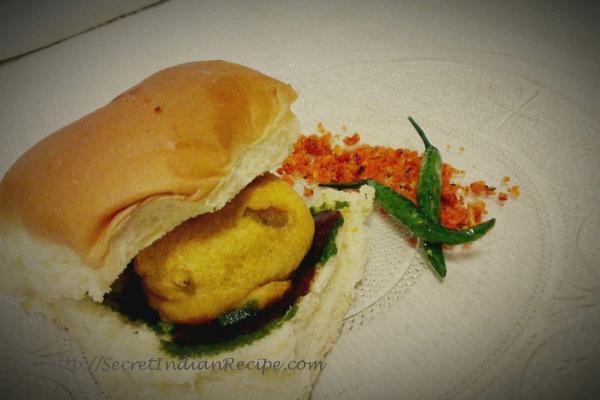 Ingredients:
For Potato mix ::::
6 potatoes boiled
2 Tbsp Oil
1 Tsp Rai (Mustard Seeds)
1 1/2 Tsp Urad Dal
1 Tbsp Ginger Finely chopped
3 Green Chilies Finely Chopped
1/2 tsp Hing (Asafoetida)
1 Tsp Methi Seeds (Fenugreek Seeds)
5 to 6 leaves Kadipatta (Curry Leaves)
2 Finely Chopped Onions
1 Tsp Haldi (Turmeric Powder)
Salt to Taste
For Coating ::::
1/2 Cup Besan
1/2Tsp Haldi (Turmeric Powder)
A pinch of Baking Soda
Salt to Taste
Water for making batter
Oil for deep frying
Directions:
Mash the boiled potatoes in a large bowl.
In a kadhai heat 2Tbsp oil, when hot add Rai, methi seeds and urad dal and let them splutter. Add ginger, green chilies, hing, kadipatta, give it a quick stir and toss in the chopped onions.
Mix well and cook only till the onions are pink and translucent. Add salt and potatoes mix well.
Turn off heat and continue mixing till all ingredients come together. When the mixture is cool, divide into 8 equal portions and shape into rounds
For Coating, mix besan, baking soda, salt and turmeric powder keep adding water till it forms a thick batter. The consistency should be similar to a thick pancake batter
Heat oil for deep frying in a kadhai or deep pan.
Dip 1 portion or potato mix (rounded) in the besan batter, coat evenly and deep fry till golden brown. Drain on paper towel.
Serve between Pav slice, with the thikhi chutney and meethi chutney. You may also deep fry green chilies and serve with the vada pav