Valentine's Strawberry Cupcake
Strawberry is my favorite ingredients for valentine recipes. These Cupcakes are easy to make and are a colorful dessert for valentine party/dinner. My little one loves it anyways, he never say no. It is a simple vanilla cupcake with vanilla frosting with strawberries and cherries.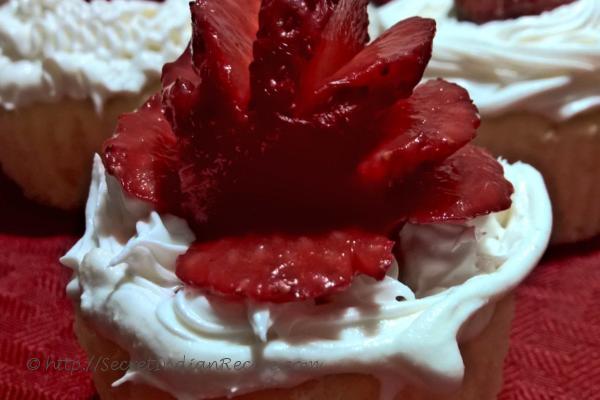 Ingredients:
1 cup White Sugar
2/3 cup vegetable Oil
2 Eggs, beaten
1 ½ cups All purpose flour
2 tsp Baking powder
1 tsp Baking soda
1 tsp Vanilla essence or extract
5 Strawberries
5 Cherries
1 box Vanilla frosting
Directions:
Preheat oven to 350 degrees F.
Grease 12 muffin or line with paper liners. In a large mixing bowl whisk white sugar, vegetable oil and eggs until well combined.
Whisk flour, baking soda, in a separate bowl. Stir flour mixture into liquid ingredients. Add Vanilla essence and mix.
Pour batter into the prepared muffin cups, filling them 1/3 portion.
Bake cupcakes in the preheated oven until a toothpick inserted comes out clean, about 18 - 20 minutes. Set aside to cool completely.
Decorate with vanilla frosting, strawberries and cherries.
Other Indian Recipes that you may Like !