Valentine's Surprise
This is a mouth watering fusion dish of my own innovation. This recipe is loved by all in the family and I recommend everyone to make it and enjoy it.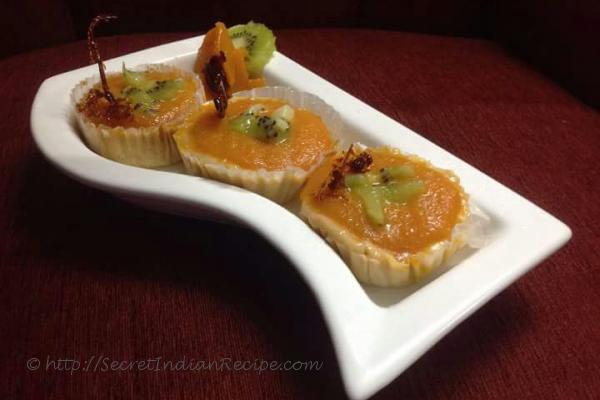 Ingredients:
Channa (Cottage Paneer) - 1 Cup
Sugar powder- ½ Cup
Mawa( Unsweetened condensed milk)- ½ Cup
Cardamom - ½ tsp
Milk powder – 2 tbsp
For the Second layer-
1 litre Milk for preparing Rabdi
Sugar – 2 tbsp
Kiwi- Pulp - ½ cup
For the Top layer (Marmalade)-
Orange Juice - ½ Cup
Cream - ½ Cup
Gelatin – 2 tbsp
Boiled Carrot pulp - ½ Cup
Sugar – 2 tbsp
For garnish-
Kiwi Slices Sugar Candies
Directions:
For the Rabdi - Heat the karai with 1 litre milk and sugar and reduce it to make 250ml of Rabidi. Then add kiwi pulp, cardamom powder and mix it properly.
for the chana base - Take fresh Channa, knead it well till its smooth. Add Mawa, Cardamom powder, Sugar, Milk Powder and knead it gently. Keep it aside for some time and then grease the small tart mould and then line it with butter paper. Then put some portion of Channa batter in it. Add 2 tbs. of Rabadi on top of the Channa. Then add one cup of water in a baking tray and pre heat the oven at 170 degrees Centigrade. Arrange the same in a tart mould in the baking tray and bake it for 30 minutes. After that, allow it to cool.
For the Top layer - Dissolve Gelatin in an orange juice. Heat a karai and then put the boiled and mash carrot pulp, add sugar and orange juice and cream. Bring it to a boil and when it thickens, keep aside cool it and refrigerate it.
After 30 minutes, add a layer of orange, carrot, jelly, kiwi and sugar candy on the top of the Mithai. Serve cool.