Vangi Bath(brinjal Rice)
Vangi Bath is quite popular in Karnataka. It is a delicious rice dish. In Karnataka Vangi bath is usually served as breakfast. It is also prepared during festivals like Vara maha lakshmi and Diwali. 'Vangi' means brinjal and 'bath' means rice. This is a good dish for school going students. It is easy to prepare. It is typically cooked in Karnataka but also famous in Tamil, Andhra Pradesh and in Maharashtra.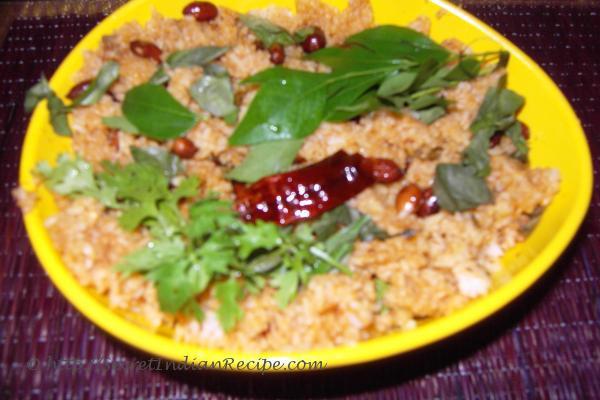 Ingredients:
Brinjal- 4 pieces
Rice 2 cups
Oil - 1 Tablespoon
Salt- 1/2 Tablespoon
Turmeric powder- 1/2 Tablespoon
Ground nut - 2 Tablespoon (fried)
Red chilli- 2 pieces
Urad dal (black lentil)- 1 Tablespoon
Hing- 1/2 tablespoon
Onions- 2 Pieces
Mustard Seeds - 1/4 Tablespoon
Vangi bath powder - 1 table spoon (available in the market)
Curry leaves- few
Coriander leaves - few
Directions:
Cook the rice.
Cut the onions and brinjals and keep it aside.
Heat oil in a pan and put mustard Seeds, urad dal, red chilli, hing, onion and Turmeric powder and thaw for some time.
Now add Brinjal, vangibath powder and salt and saute and mix. Add a little water and cook it on low heat for 6-7 minutes.
Once brinjals are done, add the rice and mix properly.
Garnish with curry leaves, coriander leaves and ground nuts.
Footnotes:
For this recipe we can use green and violet brinjals.
We can make Vangi bath power by frying and grinding 1/2 cup Chana dal( Bengal gram), 1/2 cup urad dal(Black gram), 2-3 bay leaves, 2 tsp pepper corns, 2 tsp of cloves, 4-5 red chillies, 2 tsp coriander powder and 2 tsp chilli powder.
Cool and store in air tight container.