Vankaya Pachadi (brinjal Chutney Andhra Style)
For the love of chutneys and pickles I could be a vegetarian. I have discovered an array of chutneys after I came to Bangalore after dining in the Andhra messes here. I am a diehard fan of Andhra cuisine. I love their tangy and spicy curries and my mom thinks I am crazy to vote for them over our Kerala delicacies. But it is true I love Andhra food. This chutney for instance is so much like a baingan bharta except for the tamarind and tempering that transforms a humble vegetable to a majestic chutney. You don't need to grill the brinjal but I did for my love for char grilled veggies and baingan bharta especially. It is up to you if you mash the brinjal or grind it to a fine paste. I did not have power the day I did this so I just mashed the brinjal using a fork.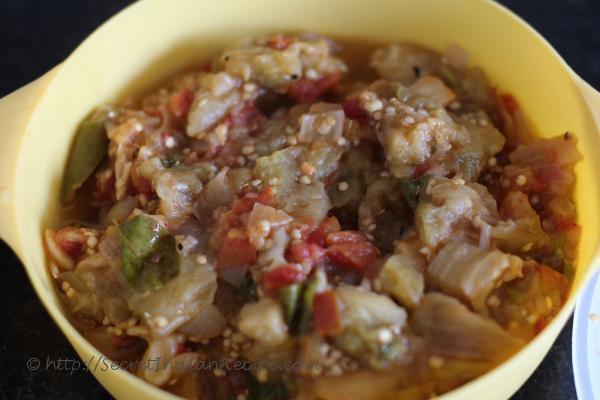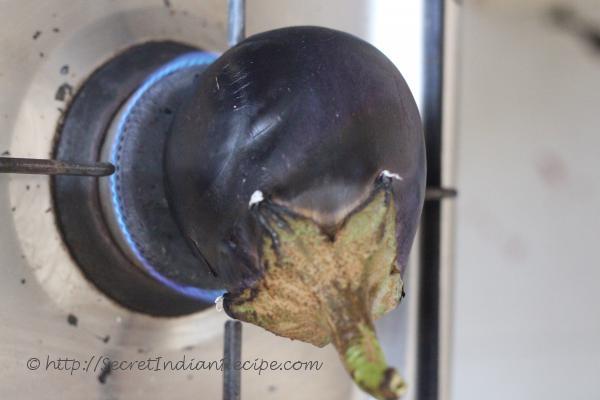 Ingredients:
Brinjal- 1 big one or 4 small ones
Shallots- 4-6
Garlic- 4-6 cloves
Green Chilies- 4
Tomatoes- 2
Curry leaves- 2 sprig
Coriander leaves- 1/4 cup
Salt- to taste
Sesame oil- 2 tsp
Turmeric powder- 1/2 tsp
Mustard seeds- 1 tsp
Dry Chilies- 2
Tamarind extract- 1 tbsp
Cumin seeds- a pinch
Split bengal gram- 1 tsp
Directions:
Grill the brinjal over fire by rotating it every 15 seconds. Peel off the char grilled skin once the brinjal has been grilled thoroughly.
Chop the brinjal or mash using a fork and set it aside. Heat oil in a pan and add the mustard seeds.
When the mustard splutters add cumin seeds,curry leaves, split bengal gram and dry chilies. Saute till the gram turns red.
Keep the flame low throughout so that you do not burn the other ingredients in the process of browning the lentils.
Now add all the remaining ingredients except tamarind, mashed brinjal and coriander leaves. Add salt and saute for 3-4 minutes.
Once all the ingredients cool down grind to a smooth paste and mix with the mashed brinjal. Add tamarind, garnish with coriander leaves.
Footnotes:
I had no power the day I did this chutney so I crushed all the roasted ingredients using mortar and pestle hence the tomatoes appear chunky in the image. Nevertheless, this chutney would taste great if prepared using a mortar and pestle.