Vanpayar Kaya Olarthu ( Cowpea And Raw Banana Stir Fry)
My favourite curry for the winters. I love having gruel what we call as kanji for winters. And kanji is best accompanied by this payar, papad, chutney or pickle. The advent season has begun (the 24 days abstinence before Christmas) and most Syrian Christians chose to abstain from meat in this season in preparation for Christmas. And this is an easy recipe often had during the vegetarian season. You can omit the raw bananas and cook the beans alone too.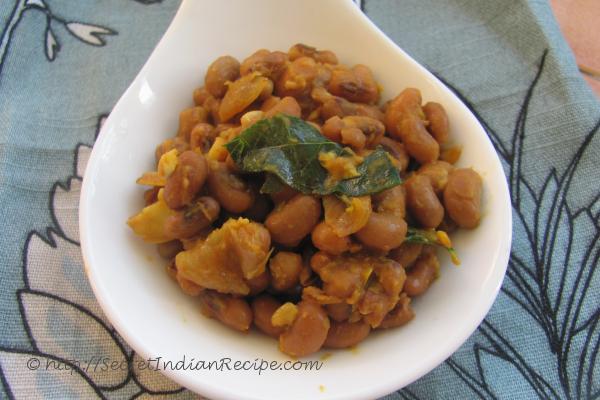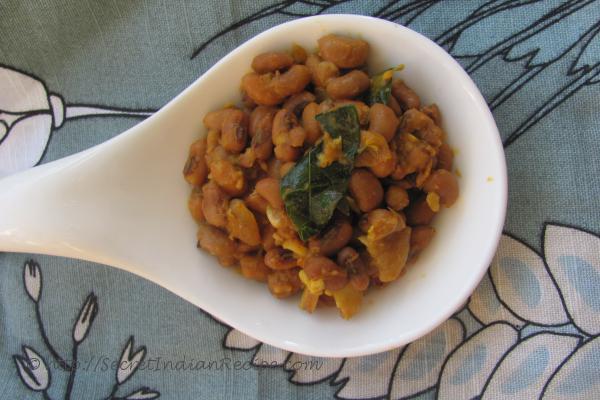 Ingredients:
Vanpayar- 200 g
Raw Banana- 2
Shallots- 10
Garlic- 6-8 pods
Turmeric powder- 1/2 tsp
Curry leaves- 1 sprig
Coconut oil- 2 tbsp
Chili powder- 1 tsp
Water- 1 and 1/2 cup
Salt- 1/2 tsp
Directions:
Soak the cowpea beans (vanpayar) for 2 hours. If you plan to cook these beans suddenly and you forgot to soak these beans you can also pressure cook it up to 3 whistles with 1 and 1/2 cup of water and it will cook perfectly.
I actually pressure cooked it. Mince the shallots and garlic and keep it aside.
Chop the raw banana peeling the skin.
Heat oil in a pan and add the curry leaves first. Now add the minced shallots and garlic and saute till the brown.
Add the turmeric and chili powder and salt to the shallots and garlic and saute for 4- 5 minutes.
Add the raw banana and cowpea beans after this and cook it over low flame with a lid on the pan till it is cooked.
Now if you pressure cooked the beans, cook the raw banana first in the masala and add the beans only when the raw banana is cooked.
Serve with rice and buttermilk.
Footnotes:
Never pressure cook the raw bananas with the beans unless you want to have this dish in a completely mashed form.
You can also cook the banana and beans over flame without pressure cooking it. Boil these ingredients together for 40 minutes with 1 cup water and then add it to the sauted spices.