Varatharacha Soya Curry (soya Cooked In Roasted Coconut Gravy)
This is a very typical Kerala preparation usually used to cook meats. Since soya lends a similar texture to meat, this recipe was adapted to prepare this preparation. In my recent visits to home, I saw that the roasted coconut mix was available in shops for sale so I got a few packets. This saves the effort and time required to dry roast the grated coconut. Ever since we got this powder, we have been using it a lot and I love the aroma of the roasted coconut with spices. If you have ever tried a roasted coconut based meat preparation from Kerala, you would understand when I say this soya is the fake meat curry.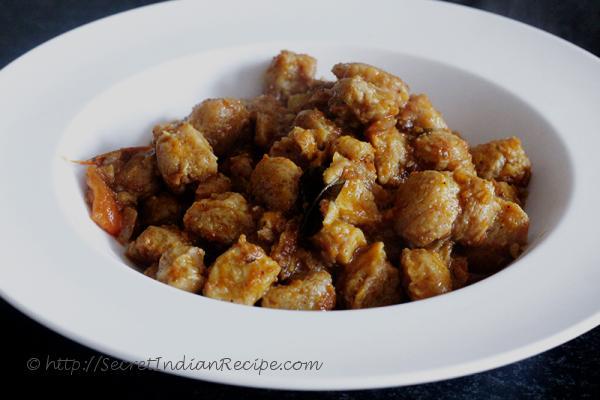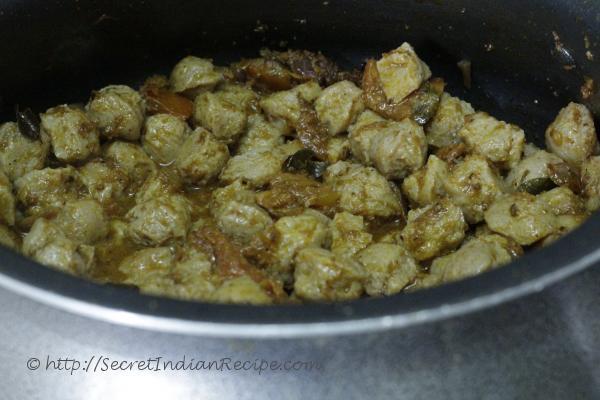 Ingredients:
Soya chunks- 200g
Onion-2
Ginger- 1 inch piece
Garlic- 7 cloves
Tomatoes- 2
Green Chilies-4
Turmeric Powder- 1/2 tsp
Chili powder- 1 tsp
Coriander powder- 1 1/2 tbsp
Garam masala- 1/2 tsp
Grated coconut- 1/2 cup
Curry leaves- 2 sprig
Water- 2 cup+ 3tbsp
Oil- 1 tbsp
Salt- to taste
Directions:
Soak the soya chunks in 2 cups of warm water for 1 hour. Or pressurecook the soya up to 1 whistle with 2 cups of water.
Heat the grated coconut in a pan and fry it over low flame till it's the colour of coffee. Try not to burn the coconut it will taste bitter if burnt.
Grind the roasted coconut with the spice powders and 3 tbsp water to a fine paste.
Heat oil in a pan and add the curry leaves first followed by minced ginger and garlic.
Once the ginger- garlic brown, add the chilies and sliced onions and saute till they soften. Now add the ground coconut paste and saute over medium flame till the spices are roasted.
After 5 minutes add the chopped tomatoes followed by salt. Keep sauteeing till the tomatoes wilt and add the soya chunks. Cook the soya with the gravy for 10 minutes.
Take the curry off the flame in 10 minutes and serve with rotis or rice.