Varatharacha Tharavu Motta Curry (duck Egg Curry With Roasted Coconut Masala)
This is the most elaborate egg curry ever, I believe and for some reason I am too lazy to prepare this curry. I think it all starts with the fact that I need to grate, roast and grind coconut. But duck eggs have a strong odour compared to hen. So it requires a heavy masala base to counter it. The other ways of cooking this curry in Kerala cuisine is a tomato based duck egg roast or an omelette. You could also cook this in a coconut milk gravy but that is quite mild a gravy so I chose the varatharacha version. I have tried to make it even milder by not grinding fresh spices; I used my garam masala mix instead.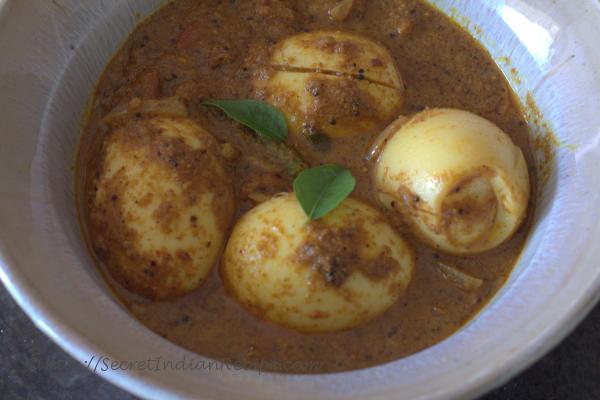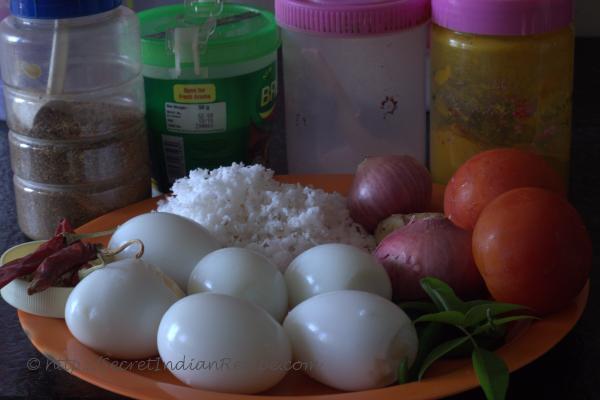 Ingredients:
Duck eggs- 6
Grated Coconut- 1 cup
Onions- 2
Ginger- 1 inch piece
Green Chilies- 3
Tomatoes- 2
Coriander powder- 1 tbsp
Garam masala- 1 1/2 tsp
Peppercorns-6
Fennel seeds- 1 tsp
Turmeric powder- 1/2 tsp
Salt- to taste
Mustard seeds- 1/4 tsp
Curry leaves- 5-6
Dry chilies- 2
Coconut oil- 1 tbsp
Directions:
Boil the duck eggs in 2 cups of water for 15 minutes and peel their shell.
Heat a wok, preferably aluminium or cast iron one and roast the grated coconut in it over low flame till it resembles coffee colour.
Do not burn the coconut because it will taste bitter then. Towards the end, as the coconut browns, add the fennel seeds and dry chilies.
Roast for 2 minutes and switch off the flame. Grind this roasted coconut with 6 tbsp water to a fine paste.
Heat oil in the same wok used to roast the coconut and add the mustard seeds. When the mustard splutters, add curry leaves.
Add chopped onions, ginger and green chilies and saute till onion browns.
Add tomatoes and salt and allow the tomatoes to wilt. Now add the turmeric, coriander, crushed pepper and garam masala powder.
Saute for 2-3 minutes and when the raw smell of spices go away, add the ground coconut paste. Saute the coconut paste with spices for 2-3 minutes.
Add 1/4 cup water and bring the gravy to simmer. Add the boiled eggs to the gravy after scouring them; this will let the gravy infuse into the eggs.
Cook the eggs in this gravy, over low flame for 5-8 minutes and garnish with some curry leaves.
Serve the curry with some appams, roti or rice.
Other Indian Recipes that you may Like !