Varutha Muttai - Fried Egg
This is a delicious dish. It is very simple procedure and consumes less time. I prepare this recipe when i run out of options for a side dish for rice. Children will love this dish. So go ahead and try this out. I am sure you will like this dish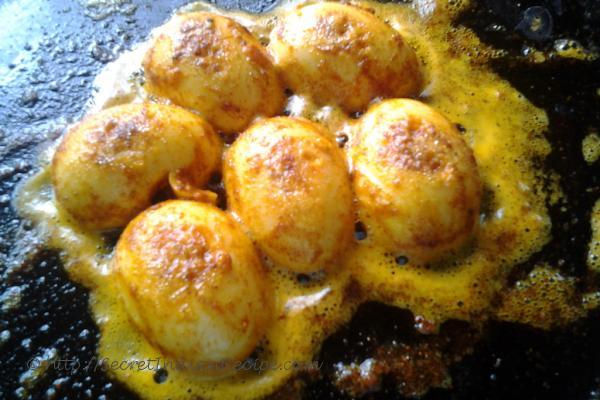 Ingredients:
Eggs - 4
Chili powder - 2 tbsp.
Turmeric powder - 1/2 tbsp.
Pepper powder - a pinch
Salt
Dry mango powder - 1/2 tsp. (optional)
Vegetable oil - 5 tbsp.
Directions:
Place the eggs in a Bowl and add water and boil it for 10 minutes.
Remove the vessel from the flame and peel off the shells of egg and keep it aside.
Cut the boiled egg vertically into two halves. Place them on a frying pan and sprinkle the following spices on the yolk.
Chili powder, turmeric powder, salt, dry mango powder and sprinkle 2 tbsp. of water on the eggs and turn and keep the eggs so that the part where you have sprinkled the masala will cook first.
Add 5 tbsp. of vegetable oil around the egg and on top of the eggs. Now keep the pan on low flame and wait till the masala gets fried and changes the colour.
It should take approximately 3 to 4 minutes, for the eggs to get fried on one side. Once it's done now turn the eggs to the other side and leave the egg to fry.
Now once both sides of eggs are cooked remove it from flame and serve it hot with rice.
Other Indian Recipes that you may Like !