Varutharacha Ulli Curry (pearl's Onions With Fried Coconut Curry)
Tasting this curry gives you the feeling of sweetness of small onion with the sour taste of tamarind. The combo gives a mouth-watering flavour for the curry and makes my taste buds tickling. My mother-in-law used to prepare it frequently in my home as everyone in my house loves this dish very much.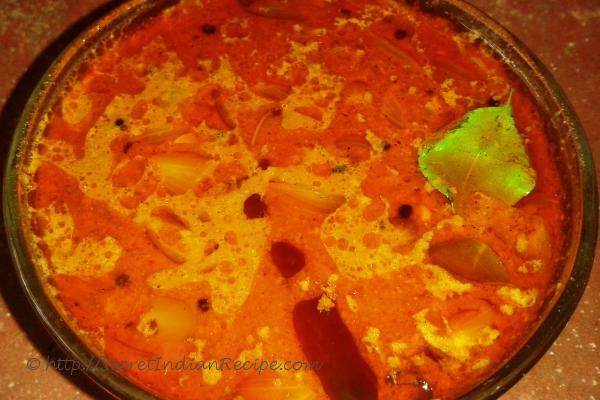 Ingredients:
Small onion-250 grams
Grated coconut-1 cup
Oil-5 tablespoon
Chilli powder-2 tablespoon
Turmeric powder-1/4 teaspoon
Coriander powder-1 teaspoon
Tamarind –a small lemon sized.
Mustard seeds-1 teaspoon
Curry leaves -2 sprigs
Red chilli - 4 nos.
Green chilli - 4 nos.
Cumin seeds-1 pinch
Water -1, 1/2 cup
Salt- as you need.
Jaggery- a pinch (optional)
Directions:
Soak the tamarind in water.
Switch on the stove and place a frying pan on the stove.
Add 2 tablespoons of oil into the frying pan.
Add the grated coconut into the oil and fry it until it reaches a dark-brown color.
Reduce the flame of the stove.
Add the chilli powder, turmeric powder and coriander powder into it.
Grind it into a smooth paste.
Add the remaining oil into the pan and heat it.
Add mustard seeds into the oil and allow it to splutter.
When it is done, add the green chilli, curry leaves, and red chilli into it and sauté it for about 2 minutes.
Then add the small onion and salt into it and sauté it until it reaches light brown color.
Then add the tamarind water into it and cook it covered for about 5 minutes.
Add the grounded coconut and remaining water into it and again cook it covered for about 10 more minutes.
When the curry reaches a semi thick consistency, remove it from flame.
You can add a pinch of jaggery to adjust the taste.