Vathal Kuzhambu - (bhurat In Hindi)- Dried Turkey Berries With Shallots Curry
This dish is prepared by frying each and every ingredient. Tamarind, jaggery and various other spices are added in this which gives good taste and aroma. Turkey berries are an excellent remedy for stomach and skin related disorders. I learnt this dish from my mom. It tastes good with rice so go ahead and try this out.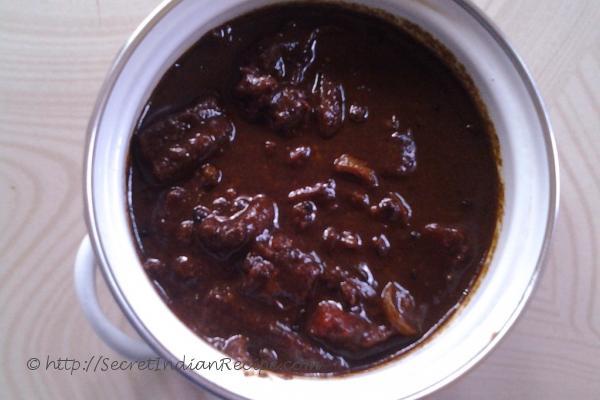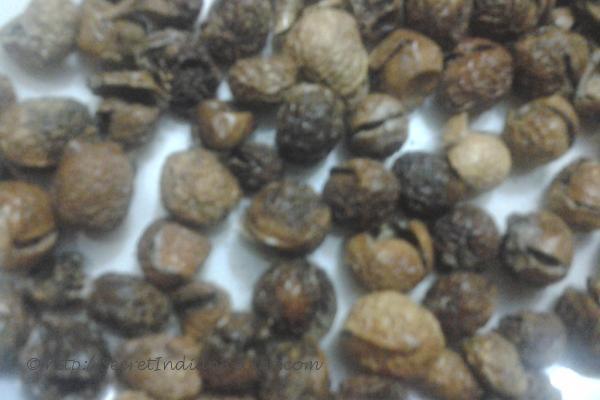 Ingredients:
Dry Turkey berries - 1 cup
Shallots - 1 cup (peeled)
Tamarind - juice (1/4 cup)
Jaggery - size of half cut lemon.
Urad dal - 2 tbsp.
Toor dal - 2 tbsp.
Curry leaves - as per requirement
Mustard seeds -1 tsp.
Garlic pods - 10
Dry red chilies - 10
Coriander seeds - 1 tbsp.
Salt - as per taste
Vegetable oil - 10 tbsp.
Tomatoes - 5
Water - 2 cups
Directions:
We usually use dry turkey berries for vathal kuzhambu. You may even use fresh turkey berries and can fry it in oil before making curry. If turkey berries are not available you may use any vegetable of your choice but make sure to fry it in oil first.
Place a pan in medium flame and add oil to it. Once oil is hot add dry turkey berries and saute it for few seconds, remove it from pan and keep it aside.
In the same pan add shallots and fry it till it turns light brown, once it's done remove it and keep aside. Now add toor dal, urad dal and saute for few seconds till it changes colour to light brown, remove it and keep aside.
Fry dry red chilies for 2 or 3 seconds along with coriander seeds, remove and keep aside once it is done.
Now add peeled garlic pods, chopped tomatoes and roast it for few seconds, remove it and keep aside.
Grind urad dal, toor dal, roasted dry red chilies, coriander seeds, tomatoes and garlic in a mixer along with little water to make a fine paste and keep it aside once done.
Now place a curry pan on medium flame and add oil to it. Once oil is hot add mustard seeds, when it starts to splutter add curry leaves and shallots and saute for a minute.
Add the ground paste and sprinkle some salt as per taste, saute this mixture well for about 2 minutes. And add water, stir it well and place the lid. Leave it to cook for about 10 minutes till it turns to thick gravy.
After 10 minutes, add the tamarind juice, jaggery to the curry and stir it well. Add the fried turkey berries and leave it on flame for about 5 minutes.
The colour of the curry will turn into dark brown or blackish as shown in the picture. Remove it from flame and keep the curry aside for about 30 minutes by placing the lid on top.
After 30 minutes the curry will be ready to be served with rice.