Vattayappam (kerala Style Steamed Sweetened Rice Cake)
Vattayappam is a speciality dish of Kerala. It is made of fermented rice dough and is one of the healthiest tea time snacks as it contains almost no oil. It is a dish prepared by the traditional Christian families of Kerala during the Easter days. The name ' Vattayappam' came from the words 'Vattam' meaning round, and appam means bread. The dishes like these always help our children to understand not only the value of traditional food but also its taste and aromatic flavours.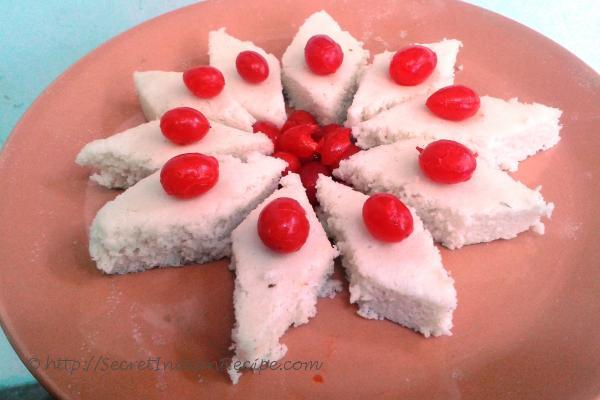 Ingredients:
Raw rice or pachari - 2 cups.
Yeast - 1/2 teaspoon.
Cooked rice - 4 tablespoons .
Grated coconut - 1 cup.
Sugar - as you need.
Salt - a pinch.
Cardamom powder - 1/4 teaspoon
Nuts and raisins - 1/2 cup
Cherry fruit - for garnishing.
Ghee / oil - for greasing.
Directions:
Soak the rice in water for about four hours.
Grind together the soaked rice, sugar, yeast, salt, cooked rice, grated coconut and cardamom powder in a mixture grinder.
Grind it to a smooth and pouring consistency.
Keep it aside for about six hours so that it gets fermented.
Now the batter is ready for steaming.
At this moment, check the sugar and salt of the batter.
Now grease a stainless steel plate.
Mix the raisins and nuts to the batter.
Pour the batter into the greased plate.
Now switch on the stove and place a steamer on the stove.
Place the plate with batter into the steamer.
Steam and cook it covered for about 20-25 minutes.
To know whether it is completely cooked, insert a toothpick into the vattayappam.
If the toothpick comes out clean, then the vattayappam is done.
When done, remove it from flame and open the lid of the steamer to avoid moisture.
Then allow the vattayappam to get cooled.
Cut it into desired shape.
Garnish it with cherry fruit and serve hot as a snack or as a breakfast dish.