Vazhaipoo Paruppu Koottu - Plantain Flower With Moong Dal Gravy
This dish is a combination of plantain flowers, moong dal and spices. With it's rich medicinal properties plantain flowers should ideally be consumed on a regular basis as a part of our diet. It's one of the best foods for a healthy reproductive system. I prepare this recipe as a side dish for rice. I have attached the picture of plantain flowers, to show the edible portion of plantain flower which can be consumed.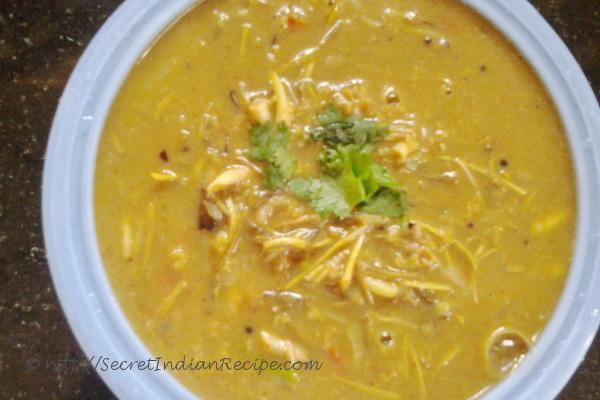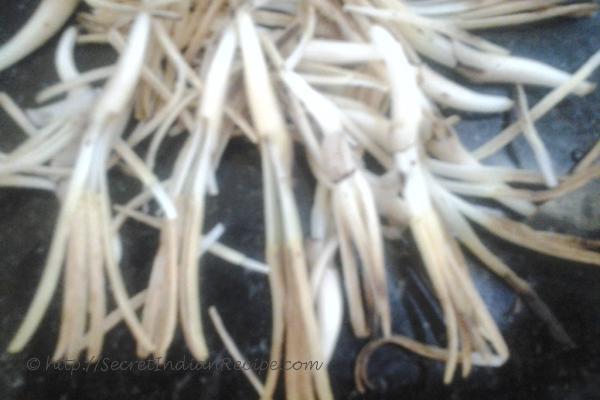 Ingredients:
Plantain flowers - 1 full flower
Moong dal - 1 cup
Onion - 1 big (chopped)
Garlic pods - 5
Curry leaves - as per requirement
Cumin seeds - 1 tbsp.
Vegetable oil - 2 tbsp.
Mustard seeds - 1 tsp.
Coriander leaves - finely chopped
Green chili - 1 sliced
Turmeric powder - 1/2 tsp.
Salt - as per taste
Ghee - 1 tbsp.
Coconut - half cup (grated) - optional
Tomato - 1 chopped
Water - as per requirement
Directions:
Clean the plantain flowers and take only the inner edible part of the flowers as shown in the picture.
Wash and soak moong dal for about 10 minutes. Place the moong dal in a pan and add garlic pods, chopped tomato, turmeric powder and water. You may add 1:4 proportion of water to the moong dal. (You can alternate pan with pressure cooker to reduce time)
Place the pan with moong dal on medium flame and leave it to cook for about 10 minutes. After 10 minutes when the moong dal is 90% cooked, add plantain flowers, green chili, salt and leave it to cook for another 5 minutes.
When both plantain flowers and moong dal are completely cooked, remove it from flame and stir it gently with a spatula and keep it aside.
Now place another pan for seasoning on low flame. Add oil to it and wait for it to get hot. Once oil is hot, add mustard seeds, curry leaves and cumin seeds.
Saute it for few seconds and add the cooked dal and plantain flower mixture to the pan. Sprinkle some salt if required and add grated coconut, and leave this mixture on low flame for 2 minutes.
Remove it from flame, Garnish it with coriander leaves and add a tbsp. of ghee and serve it hot with rice.
Footnotes:
Grated coconut is optional. It adds to the taste of the dish.