Vazhaipoo Vadai - Plantain Flower Fritters
This is a very healthy dish. Plantain flower is good for many ailments related to reproductive system as per Siddha and Ayurveda medicine. We make this recipe once in a month at our home.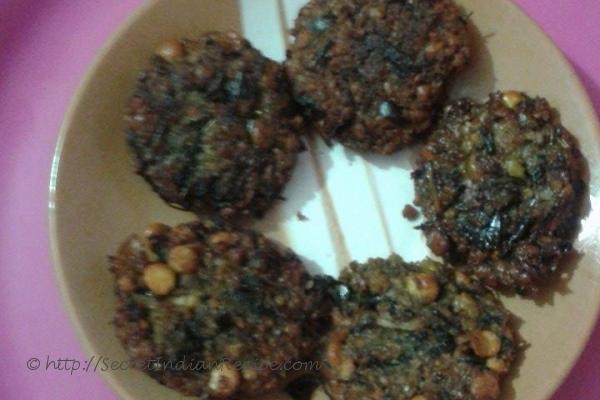 Ingredients:
Plantain flowers - 1 full flower
Chana Dal (split chick peas) we call it kadalaiparuppu - 250 grams (Soaked)
Onions - 4
Garlic & Ginger paste - 1 tbsp.
Green Chillies - 2 or Red Chilli powder - 2 tbsp.
Garam masala powder - 1/2 tsp. (Indian spice powder)
Coriander leaves- finely chopped
Turmeric powder - 1/4 tsp.
Oil to Fry - approx. 200 ml.
Asafoetida - a pinch
Salt
Directions:
To clean the plantain flower: Remove the layers of plantain flower, and you would see pale white portion of flowers inside. Remove the hard string which is in middle portion of the flower, chop the flowers into small pieces and keep it aside.
Soak the Chana Dal or Chick peas in water for 2 hours. Once it's soaked, grind the Chick peas in mixer.
Keep a hand full of soaked chana dal separate without grinding.
Once the chick peas is grinded soft, add a pinch of Asafoetida, salt, Turmeric powder, Sliced green chilies(you can alternate green chilies with red chili powder as per your requirement)
To this mixture add Garlic Ginger paste, finely chopped onions, garam masala powder, chopped coriander leaves and finally add the chopped plantain flower.
Now mix everything thoroughly and add the handful of soaked chana dal which was kept separate.
Mix the mixture again with hand and make it into round patties or in shapes of your choice. Now place a fry pan and pour vegetable oil.
Carefully slide the patties one by one into the oil and leave it to fry till golden brown.
Turn the patties and let it fry on the other side. Once it's done remove it carefully and place it on absorbent papers to remove excess oil.
Serve it hot as snack or side dish for lunch.
Footnotes:
While cleaning the plantain flower, remove the brown layers outside the flower. And remove the hard string in middle of the flower. Just use the soft part of the flower.