Vazhakaai Masala - Plantain Masala With Spices And Jaggery
Plantains are the kind of vegetable which just absorb the flavours of the spices they are cooked with. This recipe is my version of plantain masala mixed with jaggery and several other Indian spices. It's a simple dish, consumes less time and tastes great! Check this and try this out.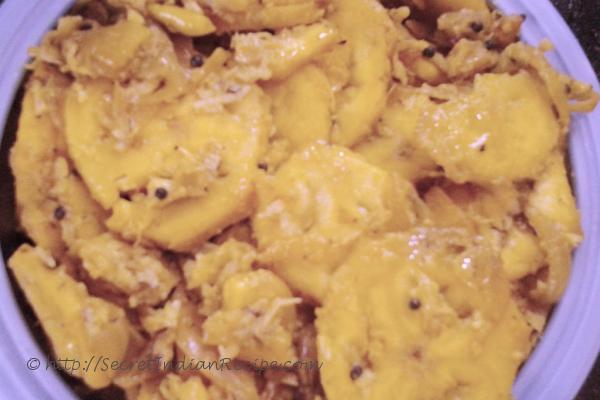 Ingredients:
Raw plantains - 2
Onions - 2 chopped
Green chilies - 2 slit
Garlic pods - 5 sliced
Turmeric powder - 1/2 tsp.
Mustard seeds - 1/2 tsp.
Cumin seeds - 1 tbsp.
Curry leaves - few
Grated fresh coconut - 1/4 cup
Fennel seeds - 1/4 tsp.
Jaggery - size of half cut lemon
Salt - as per taste.
Directions:
Peel the plantain skin, cut into round shape and soak in water to avoid discolouring.
Heat oil in a pan, add mustard seeds and allow it to splutter.
Add chopped onions, green chilies, cumin seeds, garlic pods, fennel seeds, curry leaves and sprinkle some salt over it and saute it well for 3 minutes.
Now add plantains and sprinkle turmeric powder, required salt to it and saute for a minute.
Add little water to the pan, cook plantain until its tender.
Once plantains are cooked well, add jaggery and saute gently for few seconds.
Finally add grated coconut and stir it for half a minute and remove it from flame.
Serve it hot with rice or chapathis.