Veg Kali Mirch Pulao With Chicken Haldighati ( Basmati Rice With Peppercorns And Turmeric Chicken)
Veg kali mirch pulao is one of the recipes which was served before me when I went to a restaurant in Bombay last year. I just loved the combination of spices and different flavours in the recipe. This recipe is also good for kids as it is neither spicy nor hot. You can also try it with different veggies like baby corn, french beans etc.
Chicken Haldighati is a delicious and very easy recipe of chicken. The dish requires things to be prepared all in the beginning. This recipe is very famous in Delhi. Try my both the recipes and tell me about how was it to you.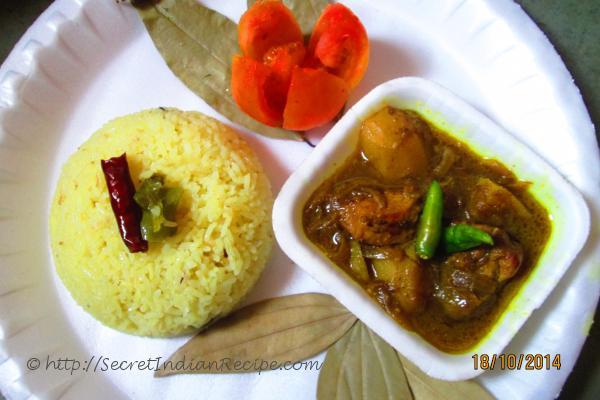 Ingredients:
[FOR VEG KALI MIRCH PULAO( BASMATI RICE WITH PEPPERCORNS)]
Basmati rice – 3 cups
Beans – 2 cups
Carrot – 1 cup
Green peas – 2 cups
Oil – 8 tbsp
Ghee (or clarified butter) – 5 tsp
Cumin seeds – ½ tsp
Peppercorns – 12
Cardamoms(black) – 3
Cinnamon- 2 pcs
Bay leaves – 2
Large onions – 2(sliced)
Ginger paste – 2 tsp
Garlic paste – 2 tsp
Salt – as per taste
Black pepper powder- 3 tsp (freshly powdered)
Garam masala ( blend of spices)- 2 tsp
Lemon juice – 2 tsp.
[FOR CHICKEN HALDIGHATI ( TURMERIC CHICKEN)]
Chicken – 500 gms
Big onions – 8-12( sliced)
Fresh coriander – 1 tsp
Salt – as per taste
Oil – 3tsp
Coriander powder- 1 tsp
Red chilli powder – ½ tsp
(For paste)
Ginger paste – 2 tsp
Garlic – 10 pcs
Cloves – 6
Cardamom – 3
Green chillies – 3
Cumin seeds – 1tsp
Fresh curd – 3tbs
Directions:
(FOR VEG KALI MIRCH PULAO)
Heat ghee and oil. Add cumin seeds, peppercorns, black cardamoms, bay leaves and cinnamon. Fry till cumin seeds turns brown.
Add sliced onions and fry till onions become brown
Add ginger and garlic paste. Fry for 1 – 2 mins.
Add peas, carrot, beans, salt, pepper and garam masala. Fry for 1 -2 mins.
Add lemon juice and 6 cups of water. When water boils, add washed rice.
Mix well. Cover and lower heat. Cook for approximately 15 – 20 mins or till rice is cooked and all the water has been absorbed.
Fluff rice with a fork and serve hot garnished with finely chopped tomatoes and fresh coriander.
(FOR CHICKEN HALDIGHATI)
Ground all the items in the paste section to a fine paste.
Heat oil in a pan and add onions. Fry till it turns soft
Add chicken. Fry till chicken turns golden red.
Add the grounded paste and mix well. Cook for 5-10 mins or till the chicken is cooked well.
Add salt, coriander powder and red chilli powder. Cook for another 1-2 mins.
Water as per requirement. Cook covered for 2- 3 mins.
Garnish with fresh coriander and serve hot.