Veg Mini Rolls Or Spring Rolls
Veg Mini Roll is an easy Indian snack recipe prepared with whole wheat rotis and mixed vegetable filling.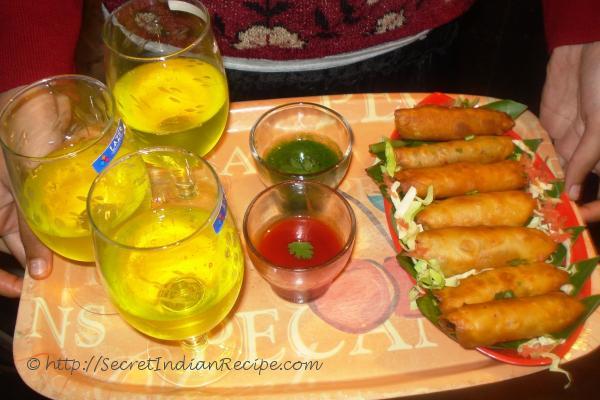 Ingredients:
2 Cup Refined Flour
1 cup Corn Flour
½ Cup Cabbage
½ Cup Bell Pepper (Green,Yellow or Red)
2 Carrot
2 Onion
½ Teaspoon Chilly Paste
2 chopped green chilies
½ Teaspoon Black Pepper
1 Teaspoon Soya Sauce
Salt To Taste
Oil For Fry
Directions:
For dough - add refined flour & corn flour a pinch of salt & 2 tablespoon oil in a bowl,then add water and prepare soft dough and keep aside for sometime.
In a pan or wok heat oil,once oil gets hot,add onion,julian of bell pepper,cabbage,green chilies & carrot stir fry for some time.
Then add black pepper,salt to taste & soya sauce.
You can add also paneer or any vegetables you like.
Then make small chapatees from dough then fill it with prepared stuffing,roll that chapatees very carefully and close end of rolls.
Heat some oil in a Kadhai or pan and deep fry these roles till they become golden brown.
Cut them into small pieces and serve it with tomato or chilli sauce.