Veg Overloaded Pizza
Bringing the most loved italian delicacy to your home..with lots of vegetables and cheese.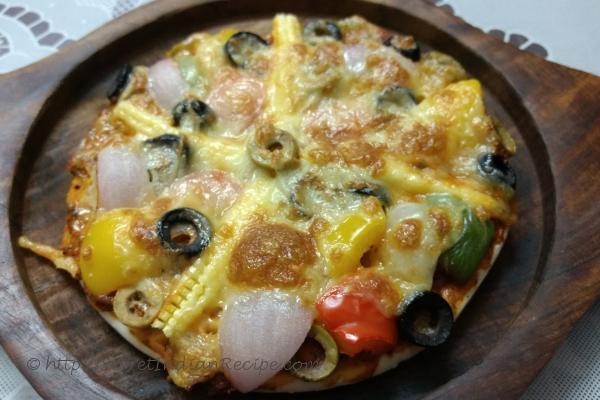 Ingredients:
Pizza base (Medium) - 3 pc
Onion - 1/4 cup
Capsicum - 1/4 cup
Baby corns - 1/4 cup
Olives (Black & Green) - 1/4 cup each
Yellow and Red Bell pepper - 1/3 cup
Pizza Cheese - as needed
Pizza mix - for garnishing
Chilli flakes - for garnishing
INGREDIENTS for PIZZA SAUCE
Pizza sauce (readily available in market) - 3 tbsp
Schezwan Sauce - 3/4 tsp
Ginger garlic paste - 1/2 tsp
Oregano Flakes - 3/4 tsp
Chilli Flakes - 1/2 tsp
Pizza Mix - 2 tsp
Basil leaves/powder - 1.5 tsp
Parsley leaves/powder - 1/3 tsp
Tomato Ketchup - 1 tbsp
Directions:
Dice all the vegetables needed for the topping.
Mix all the ingredients of pizza sauce in a bowl.
Spread the pizza sauce mixture evenly on each pizza base.
Now cover the base with vegetables of your choice.
Add grated cheese on top as per your taste.
Transfer the base on a microwave safe low rack.
Pre heat the oven for 15-20 min at 200 degree C setting, without keeping any thing.
Once heated place the rack with pizza in it.
Cook the pizza (7-10 mins) as per your microwave setting and take out once the cheese has melted well and the base is cooked properly.
Garnish with chilli flakes and pizza mix. Serve hot and enjoy!!
Footnotes:
You can add any vegetable of your choice. All the vegetables can be used in different combinations.