Veg Puff (vegetable Puff Pastry Monginis Style)
I have uploaded the chicken puff pastry recipe before, If you have missed it you may view the recipe here. This is a similar recipe without the meat and replaced with veggies. This was my third attempt to try and replicate the taste and finally this batch came out great! I wouldn't say exactly the same but yes, was pretty close :)
You will need to buy puff pastry for this recipe, you can easily find the Pillsbury puff pastry or any other brand in frozen section of any super market these days.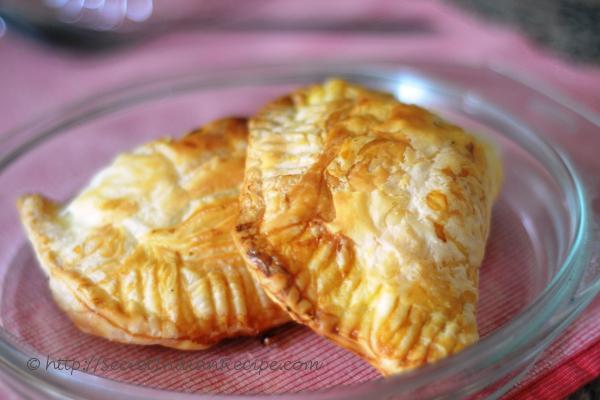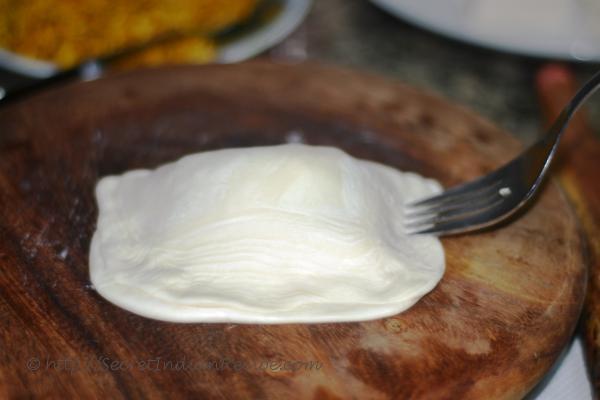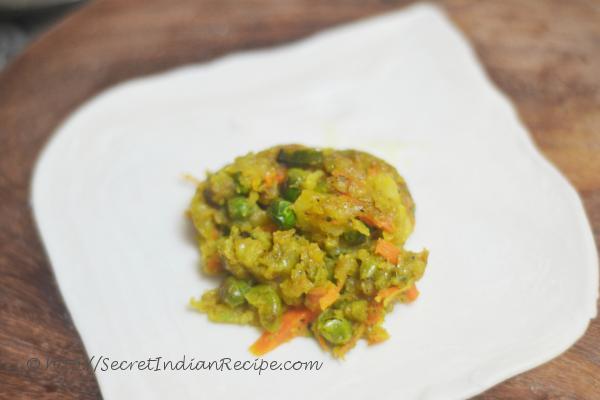 Ingredients:
Boiled Potatoes : 4
Onions: 2 big finely chopped
Peas: 1/2 cup
Carrot: 1 finely chopped
Garlic and green chili paste: 1 tbsp
Red chili power: 1/2 tsp
Turmeric: 1/2 tsp
Dhana Jeera Powder: 2Tsp
Home made garam masala or shahi garam masala: 1/2 tsp
Vinegar: 1 tsp
Sugar: 1/2 tsp
Salt to taste
Oil for greasing + 3 tbsp
Puff pastry : 1 packet (makes 8)
Milk or egg for a wash
Directions:
If puff pastry is frozen thaw it in water and leave it in room temperature for at least 1 hour
In a kadhai or pan, heat oil. Add onions salt and sauté this slightly brown
Add garlic and chili paste mix well. Add peas and carrots. Add vinegar and cook on high heat for 3 mins
Add in all the dry masalas. Mix well, cover and cook for 15 mins on medium heat
While the veggies cook, mash the potatoes and keep aside
When the veggies are almost 80% cooked add the mashed boiled potatoes, mix everything well. Add sugar and adjust salt as per taste. Cook on medium heat for 5 more mins
When the mixture comes together well and is cooked, remove and keep aside
For the pastry, cut/ divide the pastry into 8 equal squares/ rounds. Roll out the pastry thin. Place a spoonful of mixture in the centre
Dip your finger in water and wet any two edges of the pastry. Fold the non-wet edges over the wet edges sealing the mixture well
Pleat the edges to seal well or use back of the fork to create that texture. See image two
Continue this for the remaining mixture, If you have left over mixture you may refrigerate it and you can make stuffed veg parathas the next day
Pre heat the oven at 250 degrees for 10 mins. In the meanwhile cover the pan with foil or parchment/ butter paper.
Grease it with oil. Place the puffs in the pan and bake at 200 degrees for 15-20 mins
Give the top of the puffs a milk or egg wash.
Check after 10 mins if you think the puffs are browning fast, reduce the temperature. Usually 15- 20 mins should be enough
Serve with tea or coffee or on its own as a snack :)
Footnotes:
You may make the puffs square or triangle shaped. But usually in monginis the veg is triangle and chicken puff is square :)