Veg Schezwan Fried Rice (rice Fried With Schezwan Sauce Indochinese Style)
Another Indochinese recipe which I absolutely love. If you have Schezwan sauce handy, then this recipe is easzy peezy. The best part about fried rice is the kind of variations you can create. It can be a total Indian fried rice with masalas or an Indo Chinese version like this.
The word Schezwan is actually derived from work "Sichuan" a province in China. Rather, Schezwan is the romanized term for Sichuan. Sichuan cuisine is known to be super spicy and when I say super spicy I mean one spoonful of sichuan sauce can make you sweat and get a runny nose.
Well the Schezwan sauce we make in India is sure spicy but has a very uniqu taste. You will first need to prepare the Schezwan sauce before making this fried rice. You can find the recipe here: http://secretindianrecipe.com/recipe/schezwan-sauce-chili-and-garlic-sau...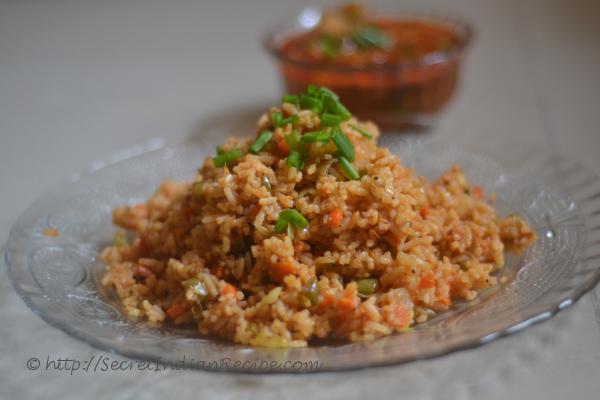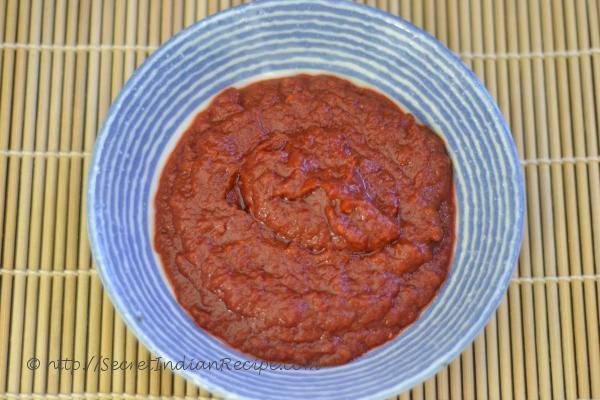 Ingredients:
Cooked Rice (Preferably precooked a day before ) : 2 Cups
Schezwan Sauce : 4 Tbsp
Carrots: 2 Cut into small cubes or Juliened
Spring Onion: 1/2 Cup finely chopped (Whites and Greens)
Green Beans: 6 beans chopped
Salt to taste
4 Tbsp oil
1 Tsp Vinegar
Celery: 1 Tbsp finely chopped
Soy Sauce: 1 tsp
Garlic: 1.5 Tbsp finely chopped
Ginger: 1 Tsp finely chopped
Directions:
Chop all vegetables and keep aside. When you cut spring onions, keep the onions and greens seperate
In a wok heat oil. Add The onions from the spring onion and stir. Add ginger and garlic and saute for 1 min
Add about 1/2 a tsp of salt, beans, celery and carrots. Give all ingredients a good mix. Saute for 2-3 mins on med flame
Add vinegar and soy sauce and saute on high heat for 2 mins or till the smell of vinegar dilutes
Now add in the main ingredient, the Schezwan Sauce. Saute for 2 mins and add in the rice
Mix all the ingredients well. Add the spring onion greens and leave about 1 tbsp for garnishing. Check seasoning and adjust salt accordingly
Keep mixing the rice on high heat for 2 to 3 mins and turn off the heat. Garnish with spring onion greens
Serve hot
Footnotes:
Use one day old rice for best results or the rice may get mushy
You may adjust the quantity of Schezwan Sauce based on your spice level prefrence