Vege Podo Pitha
Raja is four day festival in Odisha where mostly a sweet Podo Pitha is prepared but nowadays since many people don't like to eat vegetables in their regular meal, I have prepared a fusion recipe along with the traditional touch. Enjoy ! #PowerBreakfast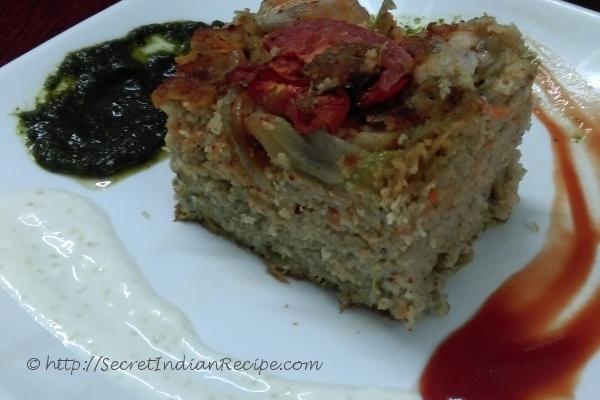 Ingredients:
Brown rice- 2 cups
Urad dal-3/4 cup
Multi grain Oats- 1/2 cup
Salt to taste
Scrape Coconut-1 cup
Gur ( Jaggery) -2 tbs
Ginger paste -2 tsp
Chilli -4 nos
Kalimirchi ( Black pepper)- 10 nos
Cardamom- 4 nos
Clove -4 nos
Desi ghee -1/2 cup
Vegetables-
Carrot grated-1/2 cup
Beans- 1/2 chopped
Lauki - grated 1/2 cup
Capsicum- 1/2 cup slices
Coconut slices-2tbs
Olive -1/2 slices
Almond -8 nos slices
Olive oil - 2 tbs
Salt to taste
Dhania Pata ( Coriander Leaves) -1/2 cup chopped
For topping-
Tomato -1 big slices
Onion - 2 big slices
Chat masala -1/2 tsp
Directions:
Heat a pan add Olive oil to stir fry all the vegetables ,add one by one other ingredients and cook it for at least 3 minutes. Keep aside.
After the urad dal and rice are soaked for four hours, drain it. Grind it to a smooth paste mix with kalimirchi, chilli, cardamom,clove and oats. After this step, add all the ingredients one by one with fried vegetables and mix properly like a cake batter.
Grease an oven proof bowl, pour this batter and decorate with tomato , onion ,sprinkle chat masala.
Pre heat the oven and bake it for 45 minutes. serve it hot with dhaniapata chutney, chilled curd, and tomato sauce.