Vegetable Chop ( Bengali Style Vegetable Cutlet )
A mouthwatering street food of Kolkata called Vegetable Chop. Vegetable chop belongs to the category of cutlets, a fusion of the British and Indian food styles.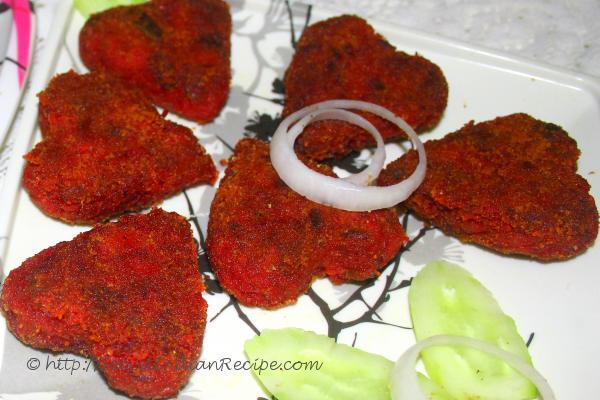 Ingredients:
1 Cup roughly chopped Beetroot
1 Cup roughly chopped Carrot
1 Medium size Potato
1 Medium size Onion chopped
2-3 Green chillies chopped
1/2 teaspoon grated Ginger
1/2 teaspoon Cumin powder
Few roasted Peanuts & Rasins
Bread crumbs
Salt to taste
Directions:
Boil beetroot, carrot & potato and mash all roughly.
Take a pan, add 2 tablespoons of oil and heat it up. Add chopped onion and fry it till the color changes to golden brown. Add salt and add grated ginger. Keep stirring for couple of minutes. Add green chillies, add cumin powder and cook.
Add the mashed vegetables. Stir and mix in everything. Add salt and saute the vegetable mixture till the excess water dries up and leaving the sides, add gram flour/besan for binding.
Add roasted peanuts and raisins. Mix thoroughly
When the mixture cools down, give them your desired shape
Roll it in breadcrumbs, until it gets a nice coat all over it
Take a dip frying pan, add enough oil for frying. When the oil is smoking hot, lower the flame to medium high and fry them in small batches till they are golden brown on the both sides. Remove with slotted spoon and place it on a paper towel to drain excess oil.
Sprinkle some black salt ( beet nun ) and serve hot with some ketchup and a salad ( sliced cucumber and onion)