Vegetable Hara Korma (mix Veggies In Green Coriander Gravy)
'Mixed Vegetables in creamy coconut and coriander gravy', was the reply when I asked the person serving food at a small hotel in Banaras. I always prefer to eat vegetarian food when I am travelling. Few years ago when I went to attend a marriage ceremony of my cousin in Benaras, one day we were out for site seeing. By late afternoon we reached " Nalanda' and we stopped at a food joint for Lunch. The menu was vegetarian comprising of 'Makki ki kachori', 'Dal fry', 'Potato bhaji' 'Hara Pulao' and ' Vegetable Hara Korma'. I have had vegetable korma many times and I knew it has a coconut, curd and cashew gravy but 'Hara Korma' was new for me. The taste was different than usual korma and I could get a relatively strong flavor of Cardamom, which made the dish unique. I tried it two three times at home and somehow I could match the taste. Here is my version of 'vegetable hara korma', if you have a better version or can suggest improvement please share.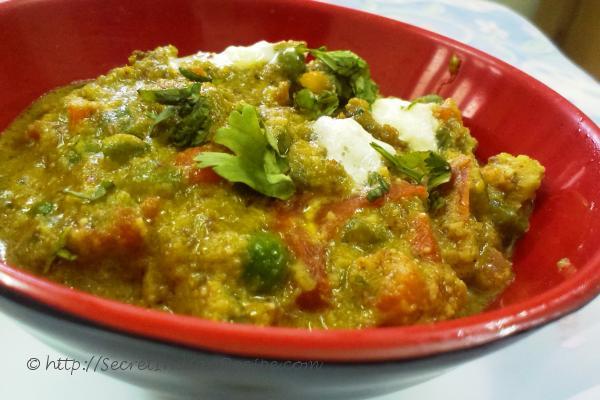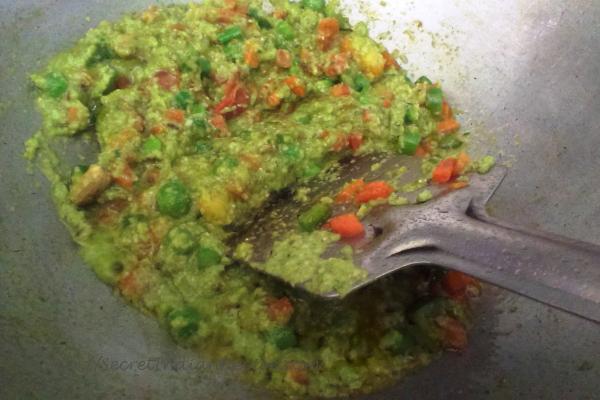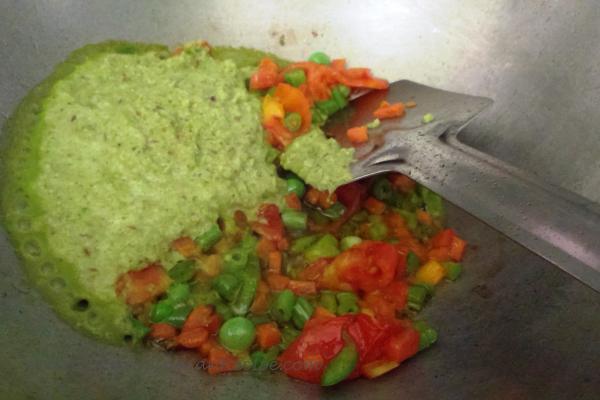 Ingredients:
Mixed veggies (Carrots, beans, capsicum, cauliflower) – 1 Cup Chopped
Green Cardamom – 3
Clove – 1
Cinnamon – ½ inch piece
Poppy seeds – 1 teaspoon
Cashew – 5-6 pieces
Onion – 1 medium sized
Tomatoes - 2 medium sized
Raw Coconut – 5 tablespoon grated.
Green Chilies – 3-4
Curd – ½ cup freshly made (should not be sour)
Cumin seeds – 1 teaspoon
Garlic - 6-7 cloves
Ginger- ½ inch piece
Garam Masala powder – ½ teaspoon
Red chili powder – 1 teaspoon
Green Coriander leaves – ½ bunch or 1 cup chopped
Ghee – 2 tablespoon
Oil – 2 Tablespoon
Salt and sugar to taste
Directions:
Start with grinding the masala first. Take grated coconut, green chillies, ginger, garlic, cumin seeds, cashew, onion, poppy seeds and green coriander leaves in a grinder and grind into a smooth paste. You need to add very little water. Soaking poppy seeds and cashew beforehand will make a smooth paste.
Afterwards heat oil and ghee in a pan on low heat. Add crushed cloves, cinnamon and cardamom.
As they start popping add the chopped tomatoes. Cook till the tomatoes turn soft. Then add the chopped veggies and mix. Saute for about a minute.
Now add the green masala paste and mix. Increase the flame and fry the masala till it starts leaving oil from sides.
Switch off the gas and let it cool. In the meantime beat curd with little water.
Once the veggies and the masala is cooled, add the beaten Curd, Garam Masala, Salt, Sugar and red chili powder. Mix and add water as per the required consistency of the gravy. The gravy should not be watery.
Cover the pan and cook for about 10-15 mintues till the veggies are cooked.
Pour a tablespoon of ghee before serving and serve it hot with Naan or Pulao.