Vegetable Manchurian Curry
Vegetable Manchurian curry is a side dish recipe and an Indian adaptation to the original Chinese recipe. It is suitable for Indian vegetarian food an eater who wants to have similar Chinese taste.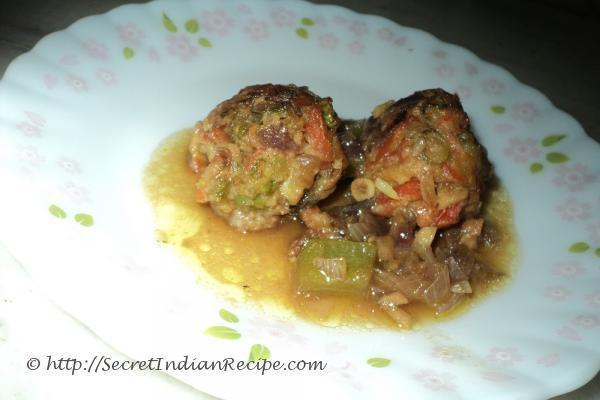 Ingredients:
Carrot 1 piece (grated)
Beans 1 cup (grated)
Capsicum 1 cup (finely chopped)
Ginger 2 tablespoon (chopped)
Garlic 2 tablespoon (chopped)
Onion 1 cup chopped
Green chillies 2 (chopped)
Maida (refined flour) 4 tablespoon
Cornflour 2 tablespoon
Refined oil 5 tablespoon
Chilli sauce 2 tablespoon
Soya sauce 1 tablespoon
Vinegar 1 tablespoon
Salt 1 tablespoon
Directions:
Take a bowl and mix carrot, beans, capsicum, 2 tablespoon of onion, green chillies, ½ tablespoon of salt , 1 tablespoon of ginger and garlic each along wih maida and make small balls out of it.
In another bowl mix cornflour, chilli sauce, soyasauce and vinegar.
Heat oil in a karahi and fry the Manchurian balls over the lowest possible heat till they turn light brawn.
Once the Manchurian balls have been fried take them out and put chopped ginger, garlic and onion in the remaing oil. Saute till the onions become translucent. Then add the sauce mixture and sauté for another 2-3 mintues.
Finely add ½ cup of water, fried Manchurian balls and salt and mix well. Cook for 2-3 mintues and then take it out in a bowl and serve hot with vegetarian fried rice.